A Great Comparison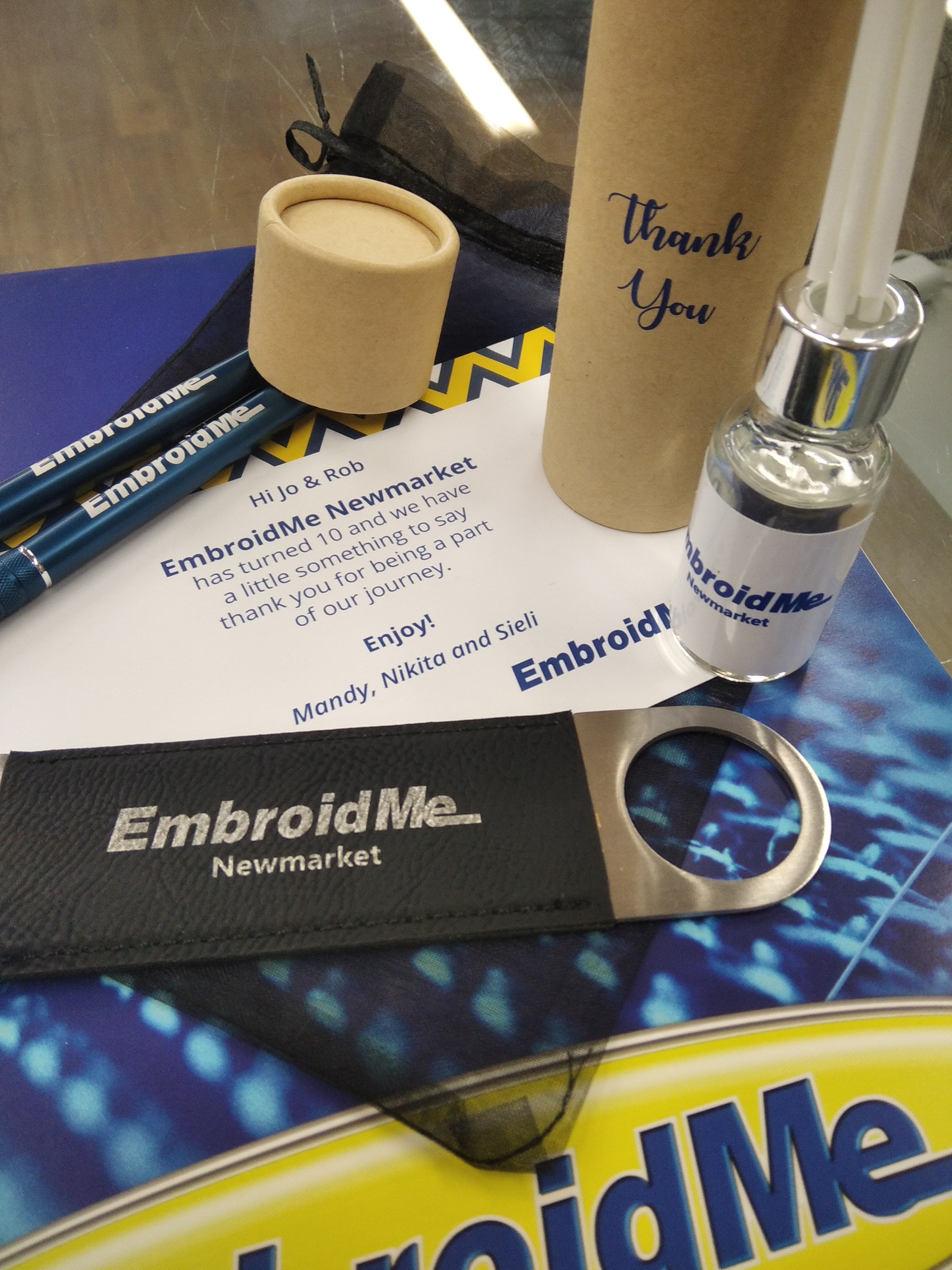 From EVERYONE at EmbroidMe Dunedin" class="sharethis-inline-share-buttons">
I once heard a great way to tell if a restaurant is any good is if their former employees will happily eat there.
If, after nearly 15 years in the biz, I still get a little thrill from receiving a parcel of promotional products in the post then I can see a correlation with that adage in our industry too.
The parcel that arrived from EmbroidMe Newmarket as a small token of appreciation for any part we played in helping them achieve the outstanding milestone of 10 years was a delightful surprise that put a smile on my dial and I deal with these sorts of things every day.

Imagine putting your brand in front of potential customers who have just had that shot of endorphins getting a free gift. You've just created a positive impression that gives you a great opportunity to start a business relationship that is already off on the right foot.

I think what I am trying to say is, "Yes please waiter - I would like to see the wine list. Chin chin EmbroidMe Newmarket; happiest of birthdays to you and a toast to 10 years!".

From EVERYONE at EmbroidMe Dunedin
Pen Solutions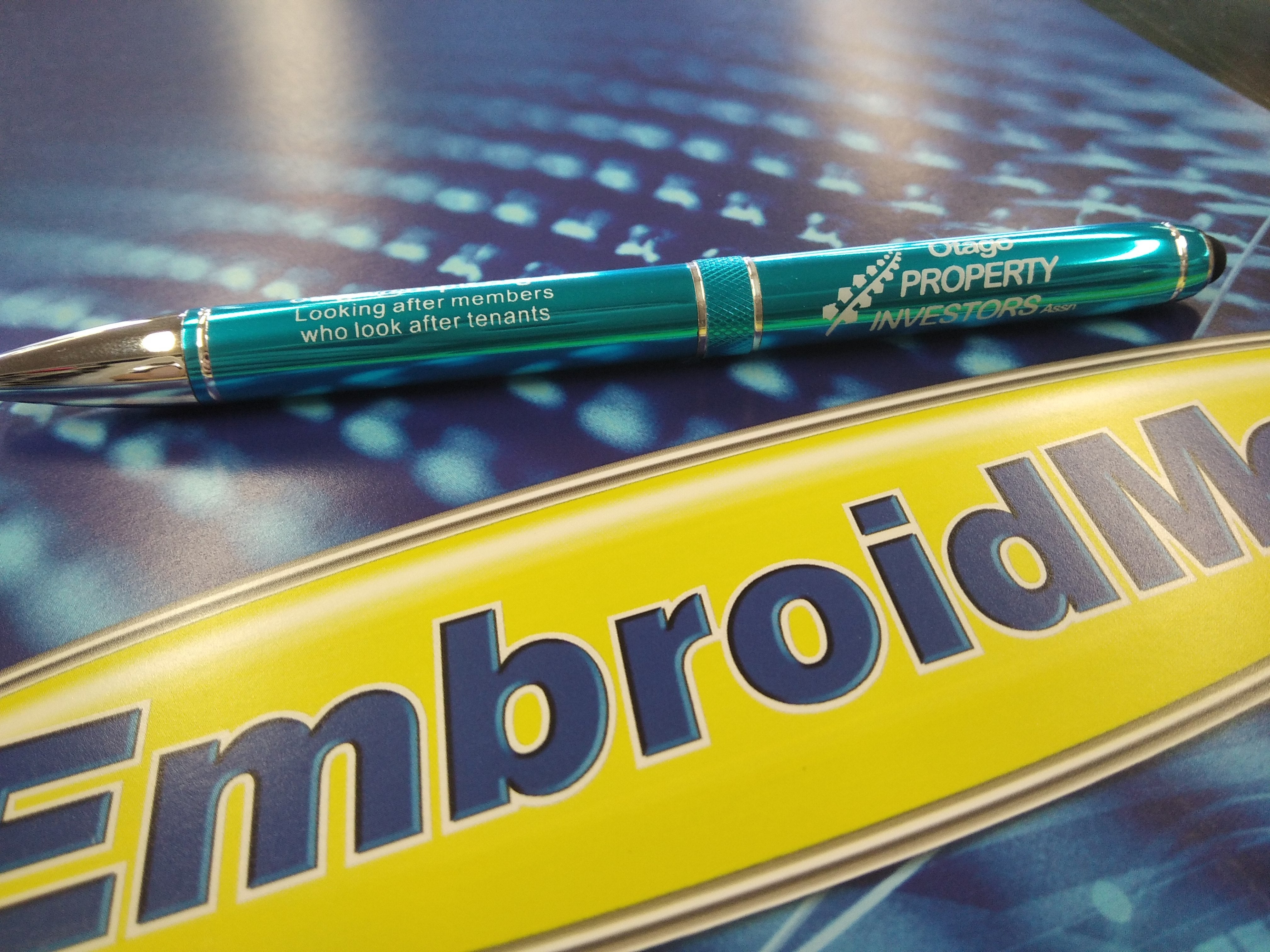 Our customer really, really wanted some nice pens but working within a tight budget (as it sometimes goes with committees). We found this discontinued colour in a fantastic pen that worked perfectly plus at a great rate if they took the remaining stock.

Happy to help our customer look outside of the box to get the perfect fit for them and these look a million dollars.
Early Birds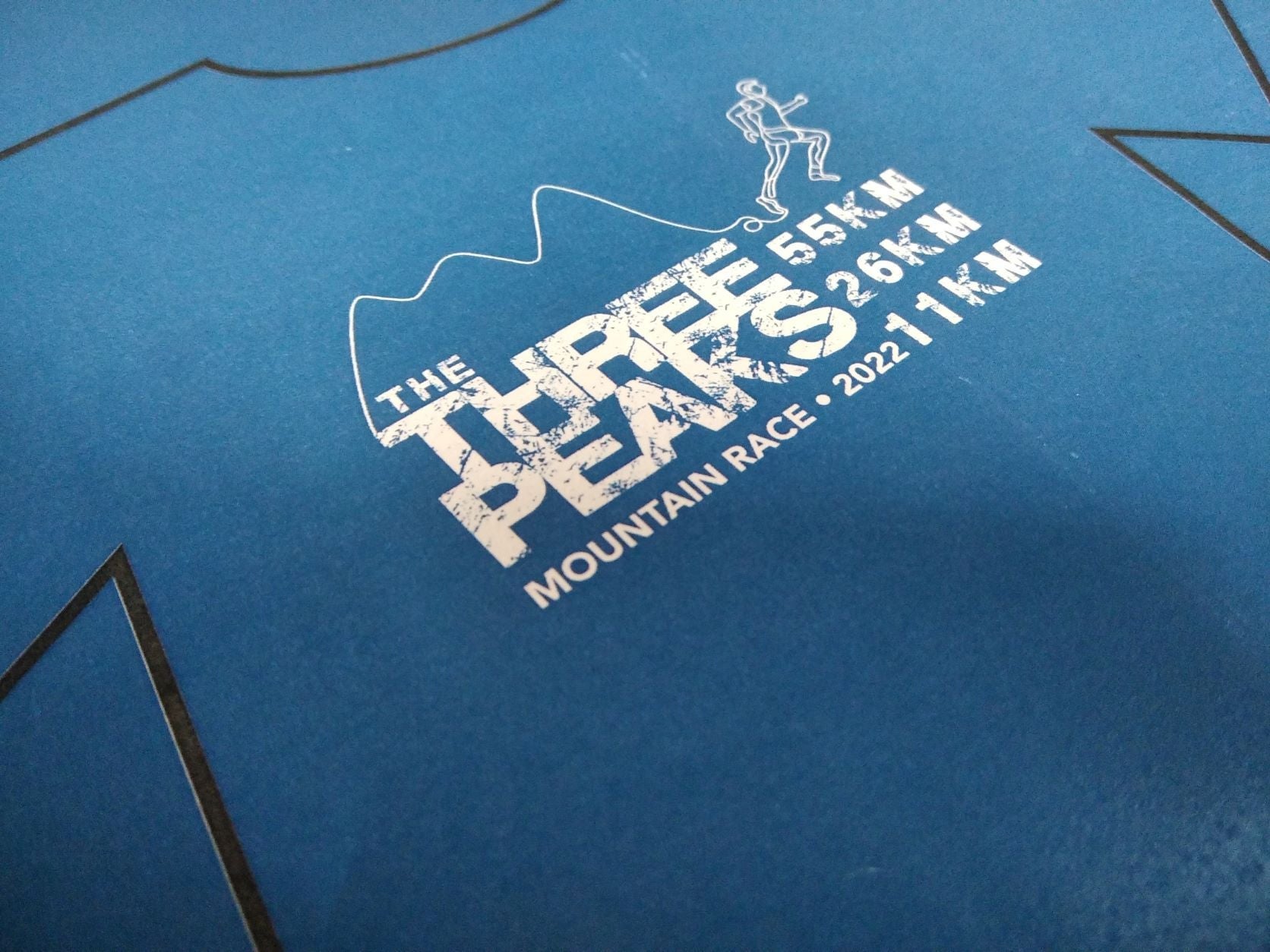 The swallow is traditionally the bird that heralds the onset of spring (in the UK anyway) and is an occasion that helps lift the spirits.
On this occasion the timing might be a bit coincidental or serendipitous but with the relaxation of the rules around outdoor gatherings Leith Harrier Club couldn't have timed it better (and is much like the first notes of birdsong after a long winter).

The lucky runners hitting the starting line this weekend no longer have to have staggered starting times so the club are busy rearranging their plans but one thing they don't have to worry about are the t-shirts for the crew or finishers - those are all sorted and looking outstanding (mostly due to our screen printer extraordinaire who has been flat out like a lizard drinking to get these finished.

Enough of the animal analogies; it's time to dust off our feathers (someone stop me please) and get out amongst it again.
Design A Tee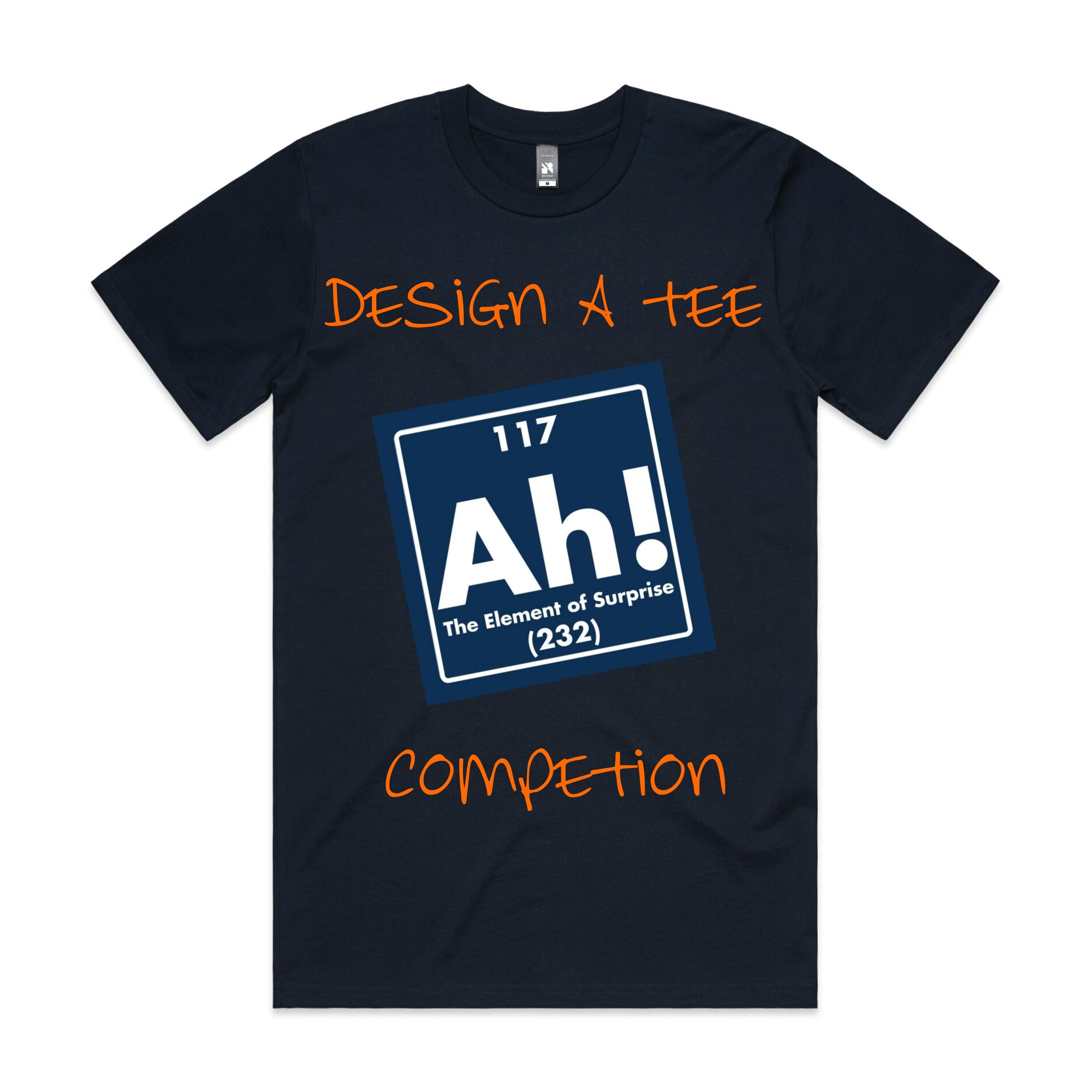 We've been a bit grumpy lately (the world is hardly lining up to give us good news every day) so we've decided to take the bull by the horns and go find our own happiness. * Yay! Go us!*

Thus the twinkling of a plan developed and we are pleased to announce the inaugural Design-A-Tee competition.
Go to our Facebook pace and enter your little bit of unrealised comedy and you could WIN your design on a t-shirt.

Remember to keep it (mostly) clean and (mostly) unoffensive if you're confident in skirting that fine line but all designs will be put to the sword with our panel of t-shirt experts and a Laugh-O-Meter - oooh, hi-tech stuff.
Get your entry in by Friday the 8th of April - yes, this year - follow the instructions and you're in with a chance.
This Hot Mess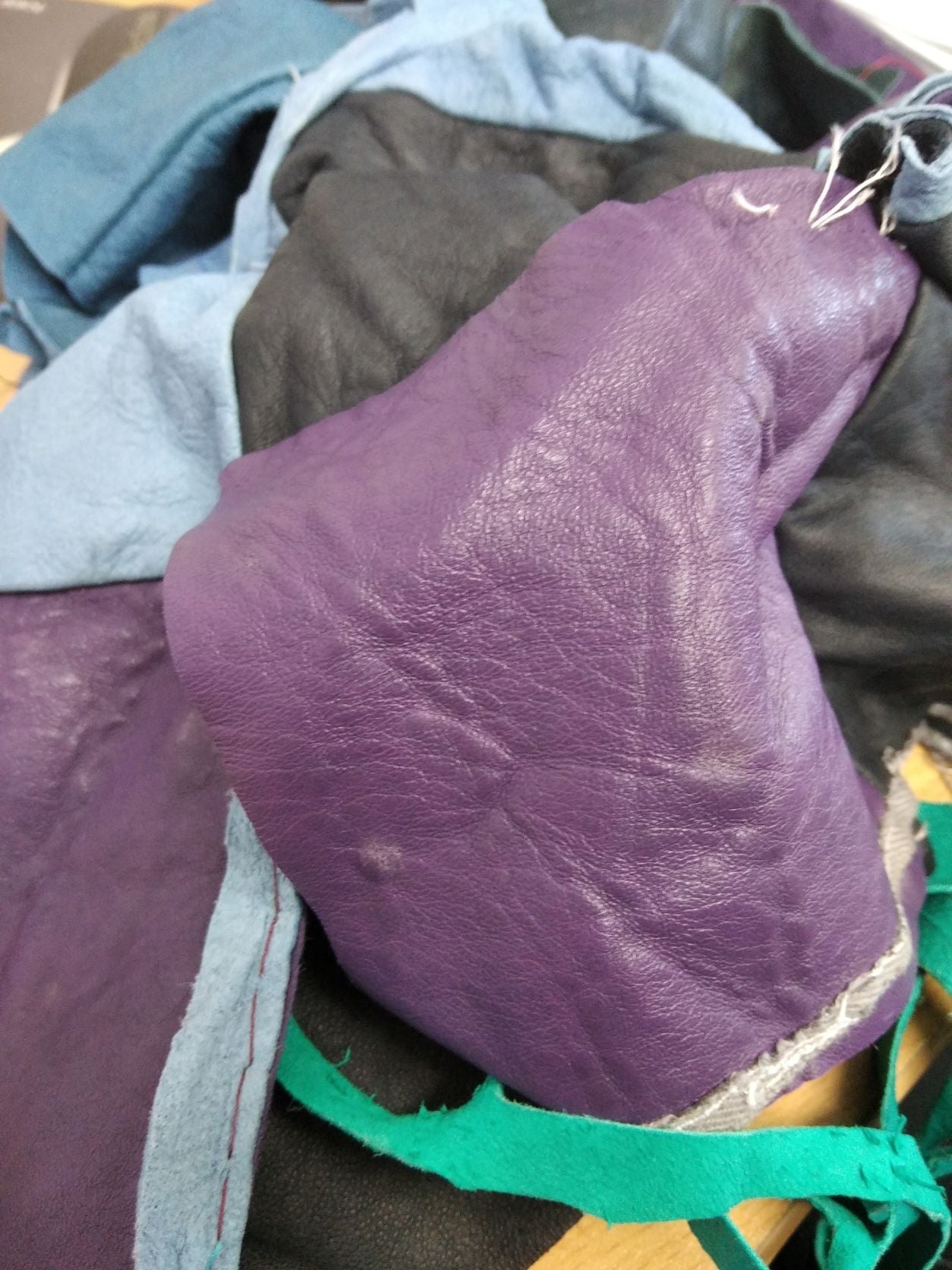 Many, many years ago our client (Friend 1) and a pal (Friend 2) were aspiring clothing designers ready to take on the world with a sewing machine and a bundle of leather scraps. They were also 10 and had no focus or direction (her words, not mine) so gave up on this dream shortly afterwards.

Friend 2 sent this bundle of scraps to friend 1 some years later for a bit of a laugh; which then got duly filed away in a box of keepsakes. Friend 1 found these recently and has decided to do something a bit spesh for friend 2's upcoming birthday involving this 'outfit' and a bit of help from EmbroidMe Dunedin.
I can't share the finished product and all people involved could either be real or imaginary.....and I just can't say any more but can definitely say that these 30 + year old bits of leather will finally become part of a modern, wearable outfit incorporating garments from our collection.
Corduroy!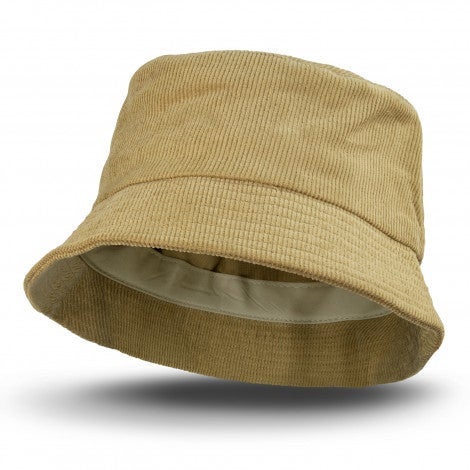 Don't tell me you're not impressed to see corduroy buckets making a comeback - I'll hold off on telling you about the flannel ones for today just to put the brakes on the palpable excitement.

These puppies are stunning and yep, that's genuine, 100%, legit corduroy there. Even better....we can embroider that up a treat and get your brand onto the heads of those that love a bit of nostalgia.
Autumn Showers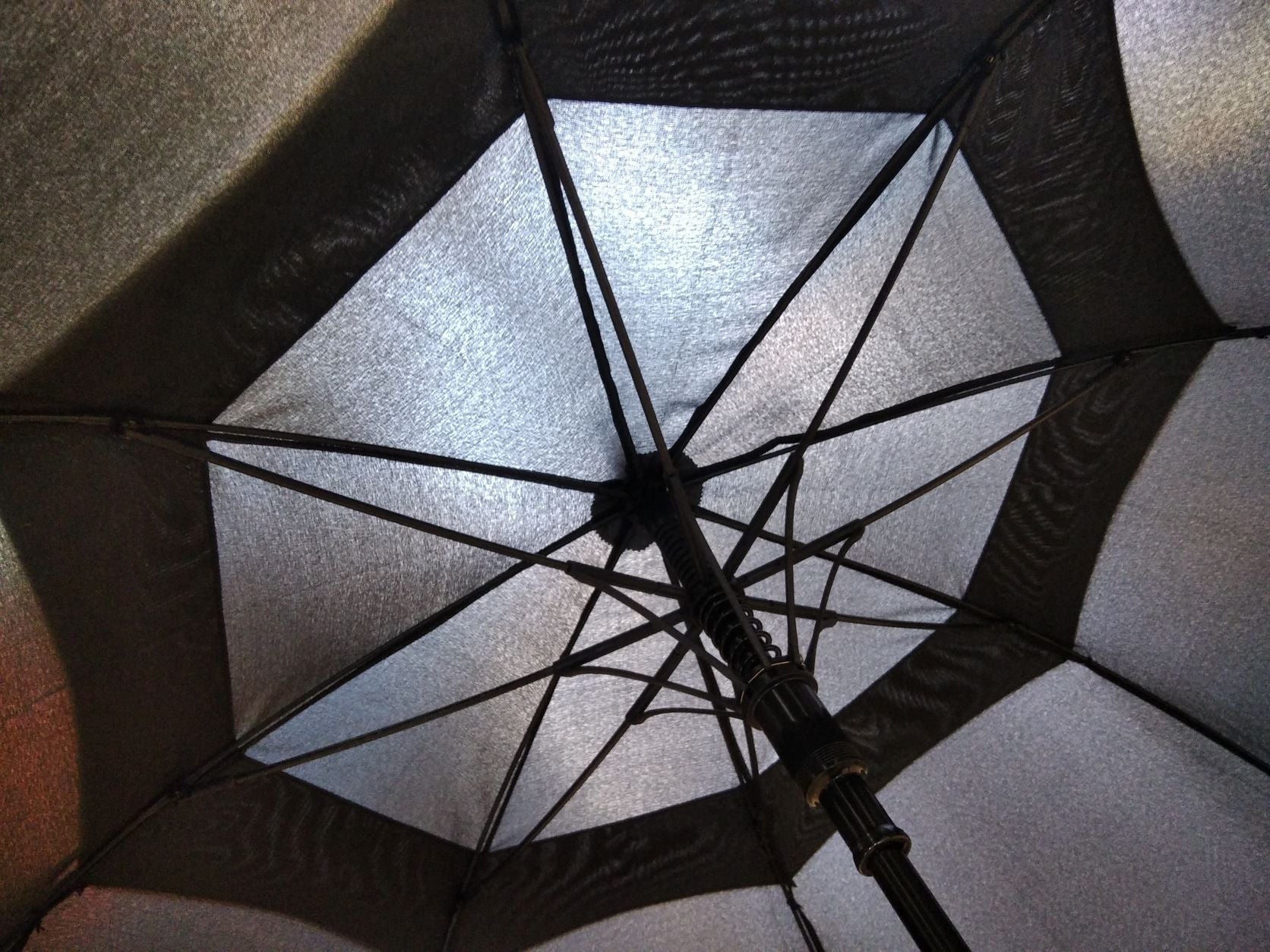 I might be wrong but after the 'summer' we've had I suspect it's going to be a damp autumn as well. Umbrellas are a great way to get your brand out in front of a wide audience because just about everyone who receives one is going to pop it somewhere handy for those rainy days and USE it.
Mine is yellow. Not like a subtle lemon colour but YELLOW!! (yes, capitals AND exclamation marks kind of yellow) with a fantastic EmbroidMe logo printed on four panels just in case it was looking too subtle still.
It certainly does as it promises and gets noticed

Touch base if you were thinking about something a little different for getting your brand out there this season.
Badges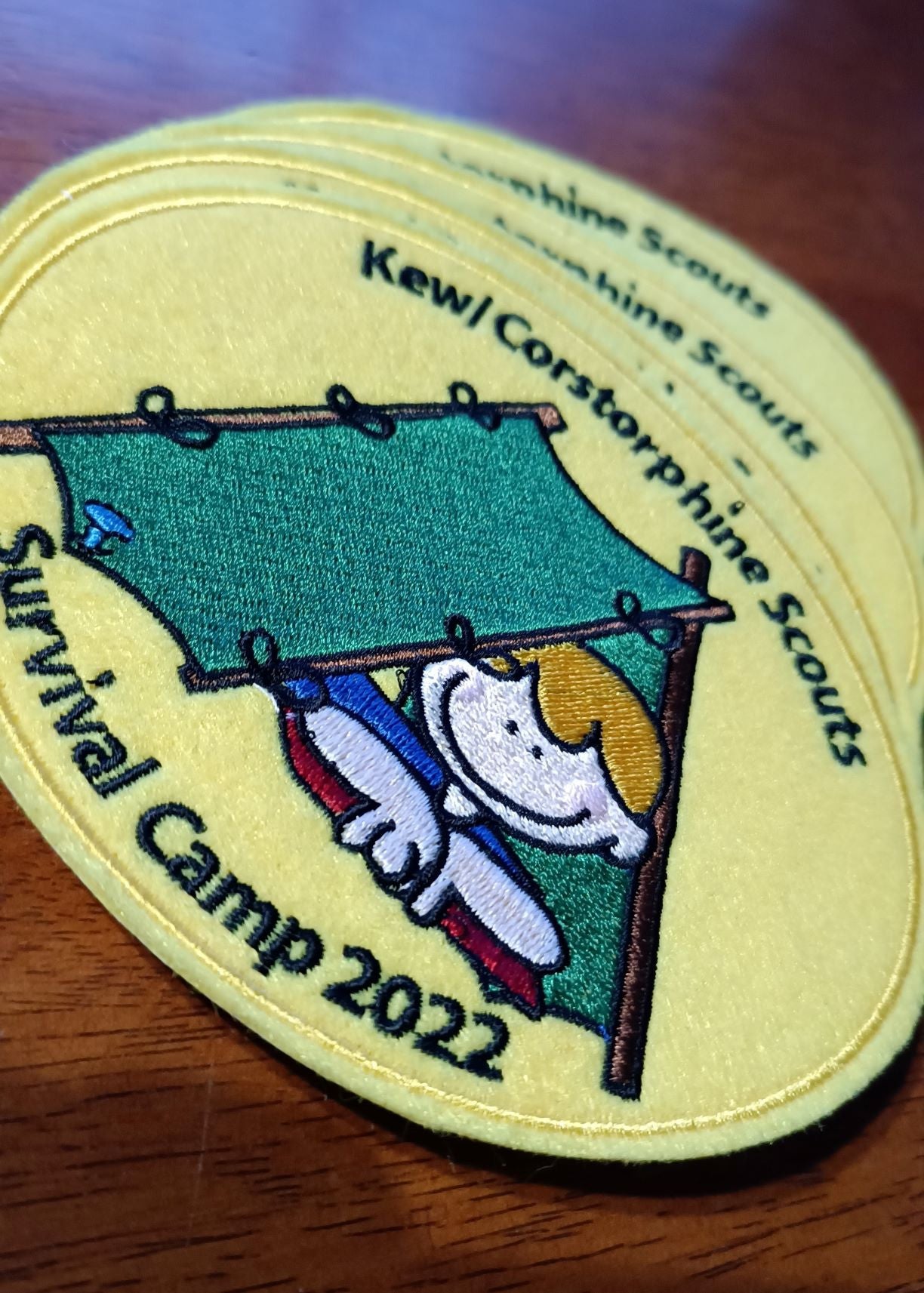 Someone recently asked why I am a Scout Kaiarahi (Mentor) which gave me reason to look into my own motivations.
Sure, there's the joy of teaching outdoor skills to our youth; of helping these young folk become more self aware and see the value in being community minded; of knowing they go on to become leaders in their own lives.......But getting BADGES is pretty cool too. :)

Our youth have been organising a 'survival' camp so something we could do to help was make these amazing badges those that attend can sew onto their Scout blankets. The process of making something so customised is a lot of fun and incredibly rewarding.

If you have an inkling of an idea - pop in and see the team. There is not often a problem that can't be solved with a bit of creativity.
Proudly Supporting the Highlanders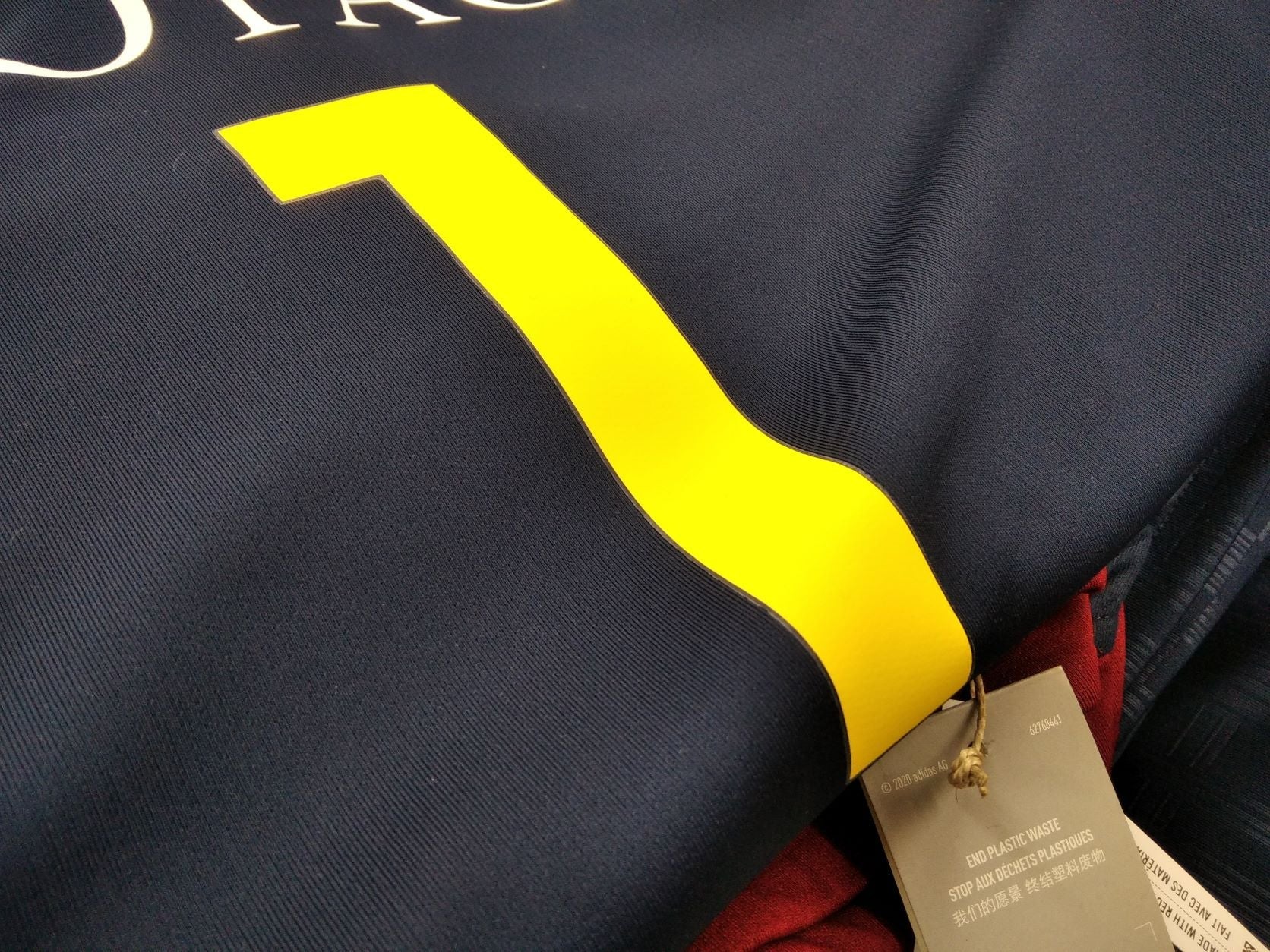 Something we're immensely proud of here at EmbroidMe Dunedin is our ongoing support of the Otago/Southland Highlanders. Around this time every year the kit arrives in and it's all hands on deck to get the branding for the year on and back out the door for the team to be kitted out. With the Super Rugby 'bubble' this year the timeframes have been even tighter but the team are well attired and wearing their major sponsors' logos on the 2022 kit.

Looking forward to this year's campaign getting underway!
Shop Local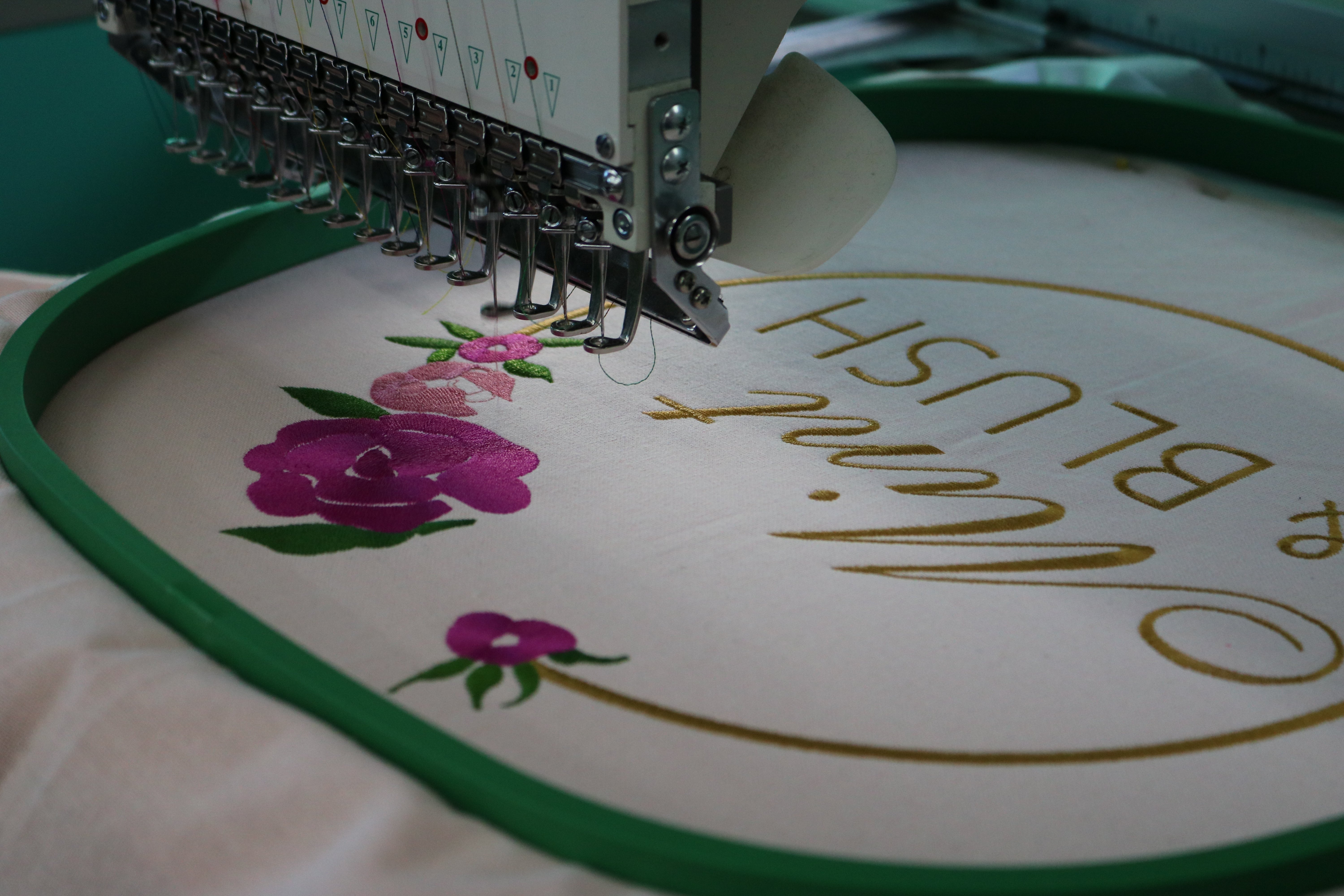 It's that time of year again when we realise we HAVE left the Christmas shopping until the last minute AGAIN. Resolve to do better next year.
The local produce and artisan markets are a veritable smorgasbord of gift-giving-delight and I have enjoyed supporting these amazing people and seeing what awesome talents our little corner of the world has.
Stall holders have been out in force making sure their stands get noticed by making customised table cloths, aprons, caps and polos to take their brand to the next level. We've loved talking to every one of them about their 'why' and help with making sure what they wear is on point and on brand.
Merry Christmas from us all at EmbroidMe Dunedin
What A View!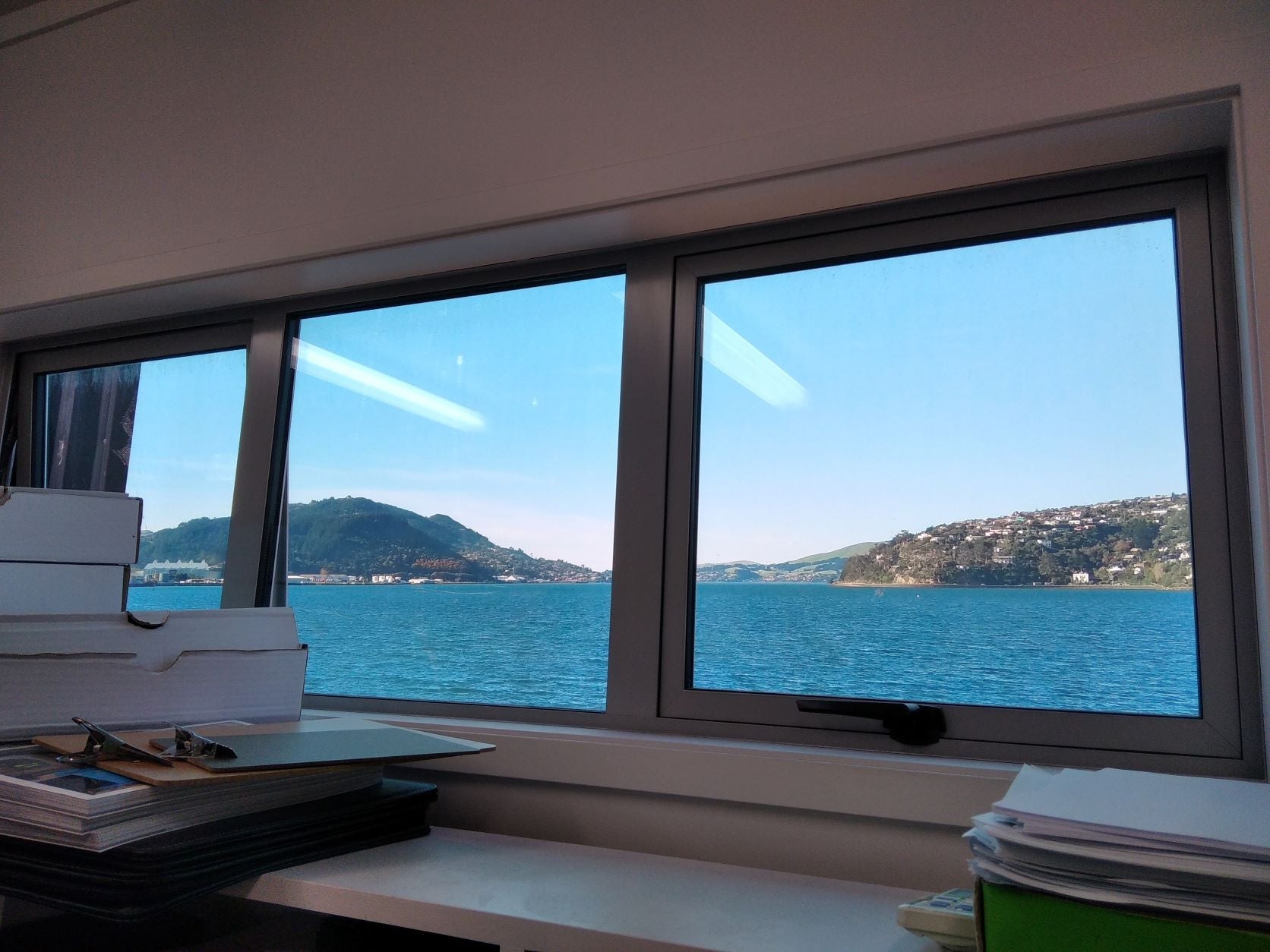 I thought I'd give a little background into the photo that generates so much interest amongst you all when you call in.

A number of years ago our lovely neighbours built a shed. It's a magnificent shed but black iron is not much of a view when you're standing at the counter looking around. I kept telling them that I'd like the view from their first floor window out along the harbour on a gorgeous dunnerstunner day without really expecting to see this view turn up one day. The chaps positioned it in a prime viewing location so that lots of folks comment on how realistic it looks. It's particularly impressive when the light hits it just so and the harbour appears to glow.

I can't recommend the team at Speedy Signs Dunedin enough for giving me my view that fascinates all who glance up at it.
Health And Safety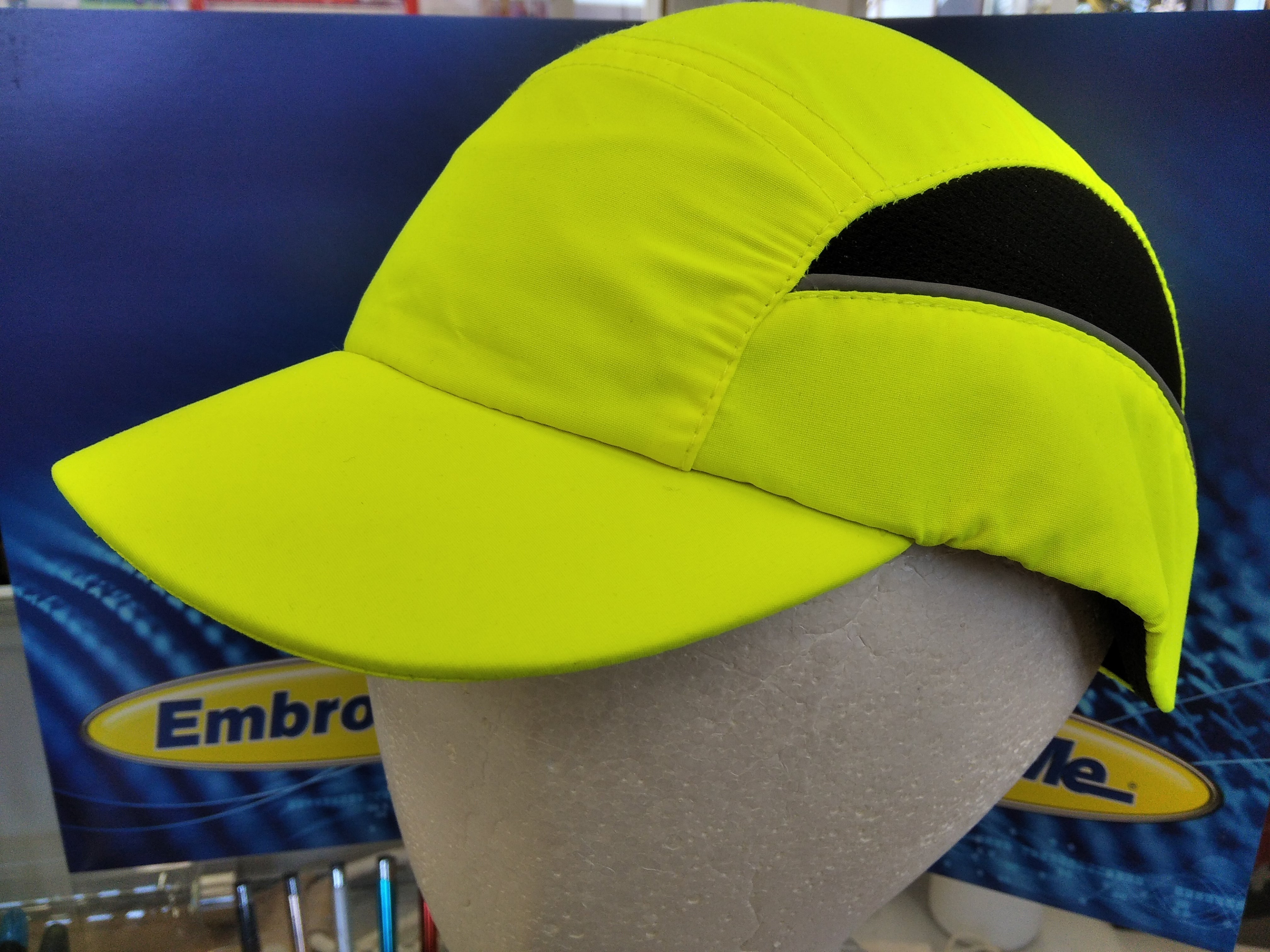 I love these Bump Caps!! Such a great idea in environments where you need SOMETHING but not necessarily the whole hard-hat shebang (but we can help you with all PPE requirements including hard hats). Hi-viz or not hi-viz these are a good way to keep your noggin safe for those in-between work spaces.
Our safety conscious clients are happy they will have these so they can go onsite and still be compliant but comfortable.
WIN $2,000 Worth of Branded Gear!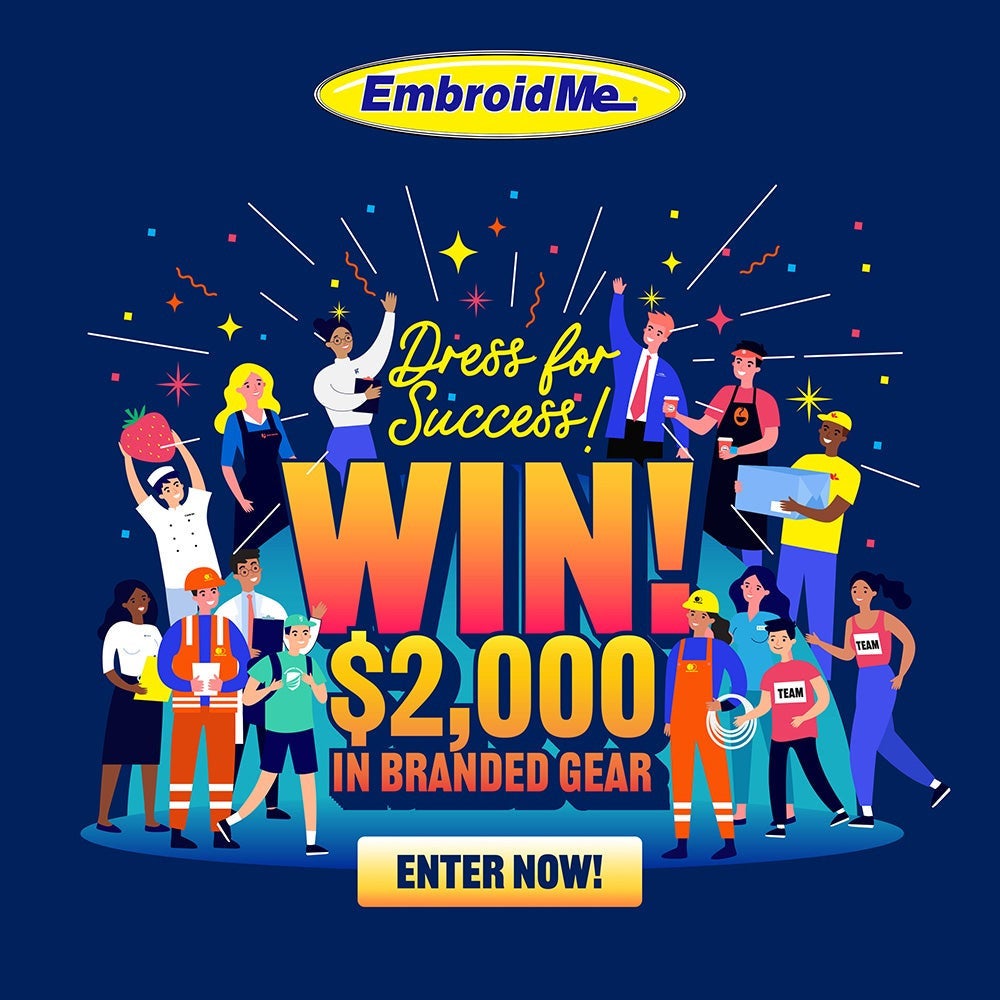 To celebrate the 15th birthday of EmbroidMe in New Zealand we are giving away a fantastic prize pack. Check out our Dress For Success campaign running until Monday the 6th of December 2021.
Follow the link to register your business and go into the draw to WIN!
Custom Woven Ties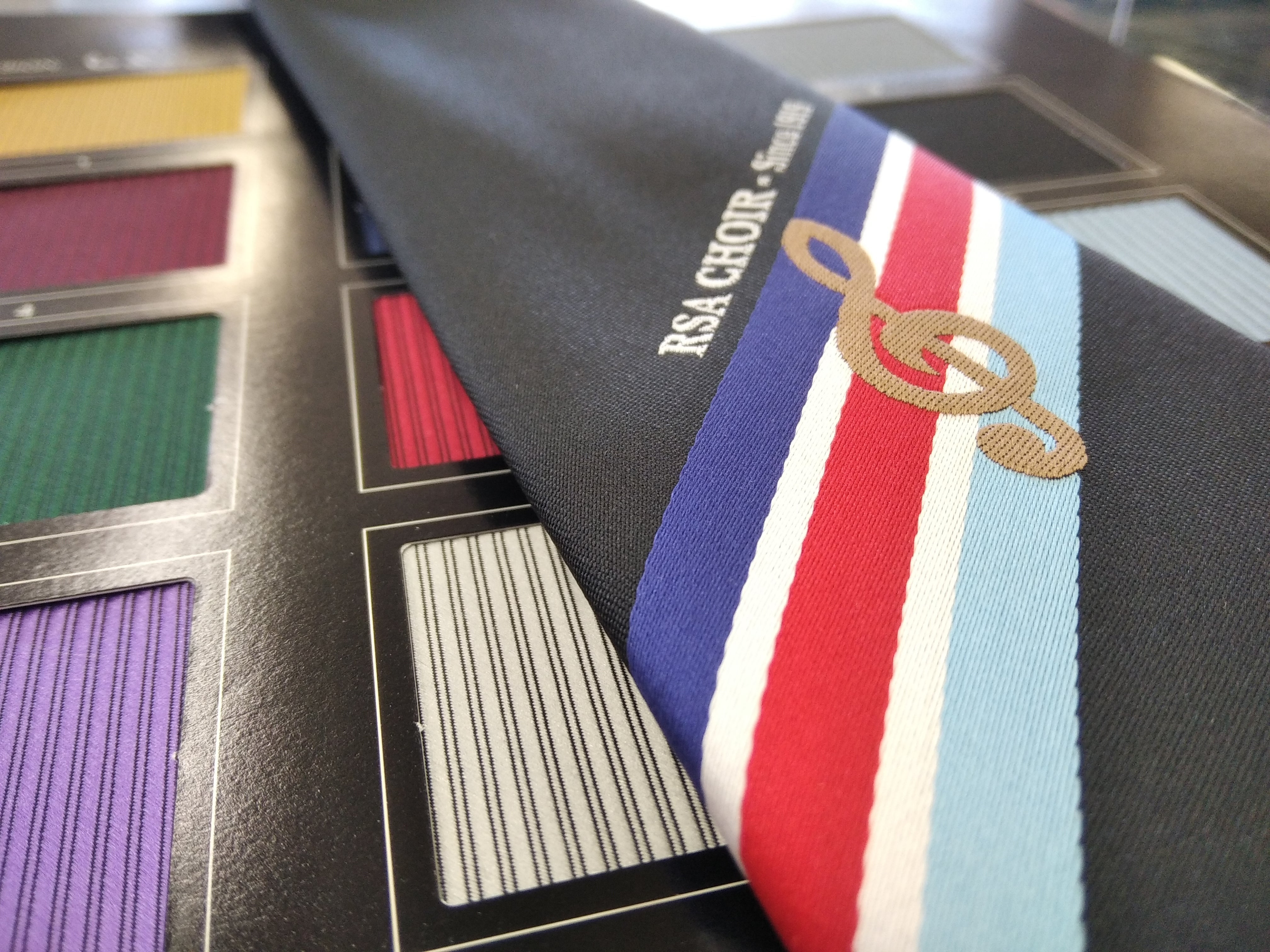 What we can achieve for our customers often boggles the mind. We could embroider some ties, dye sublimate some ties (also nice) or we can get an order of custom woven - yes, woven into the fabric - ties that are a wonderfully classy way to have your logo in the public eye. These were for a special interest group but we can cater to sports clubs, corporates, conferences with a style to suit everyone.
These ties were picked up this afternoon and are going out to a great bunch of folks.
Beachlands Season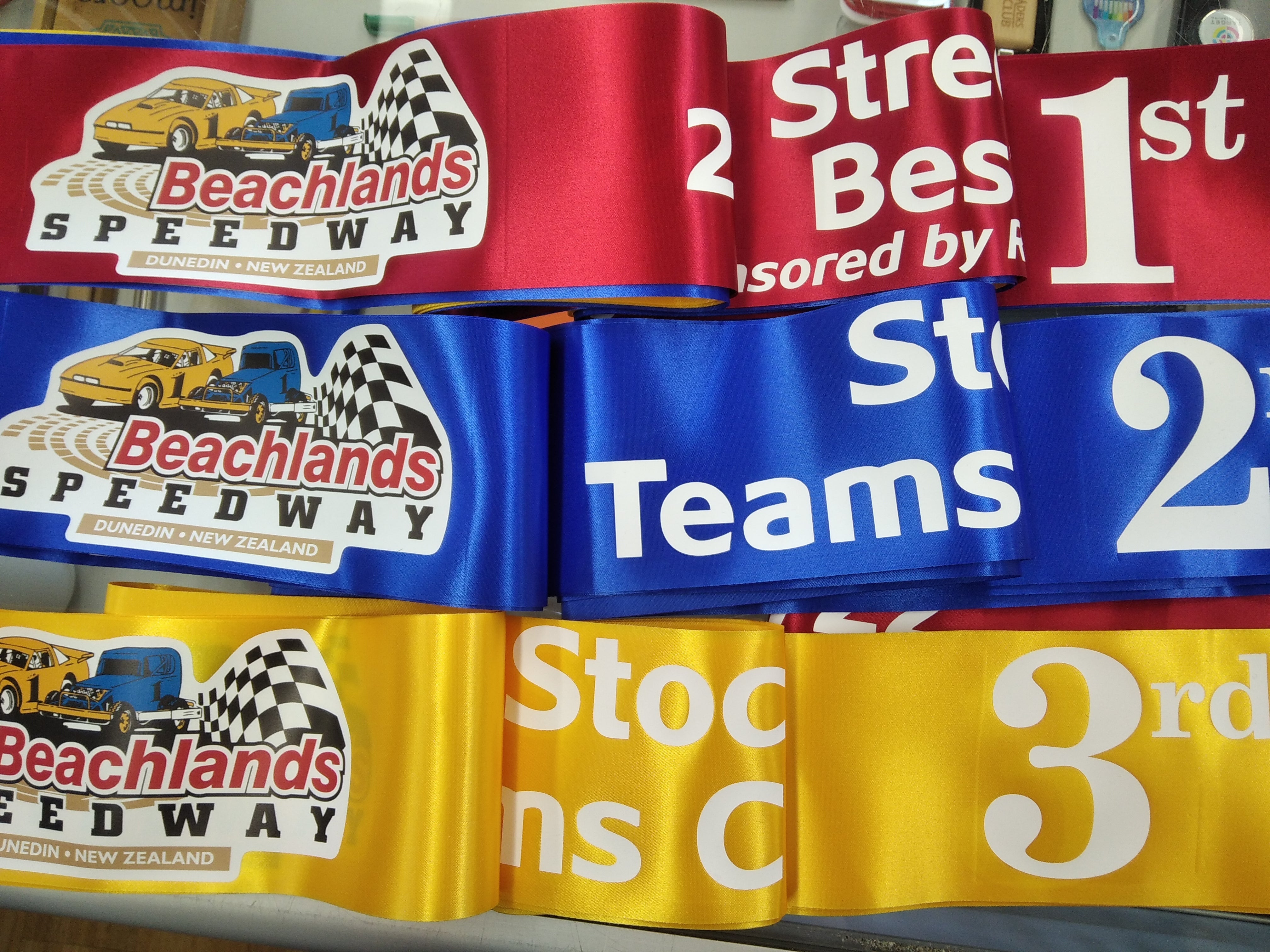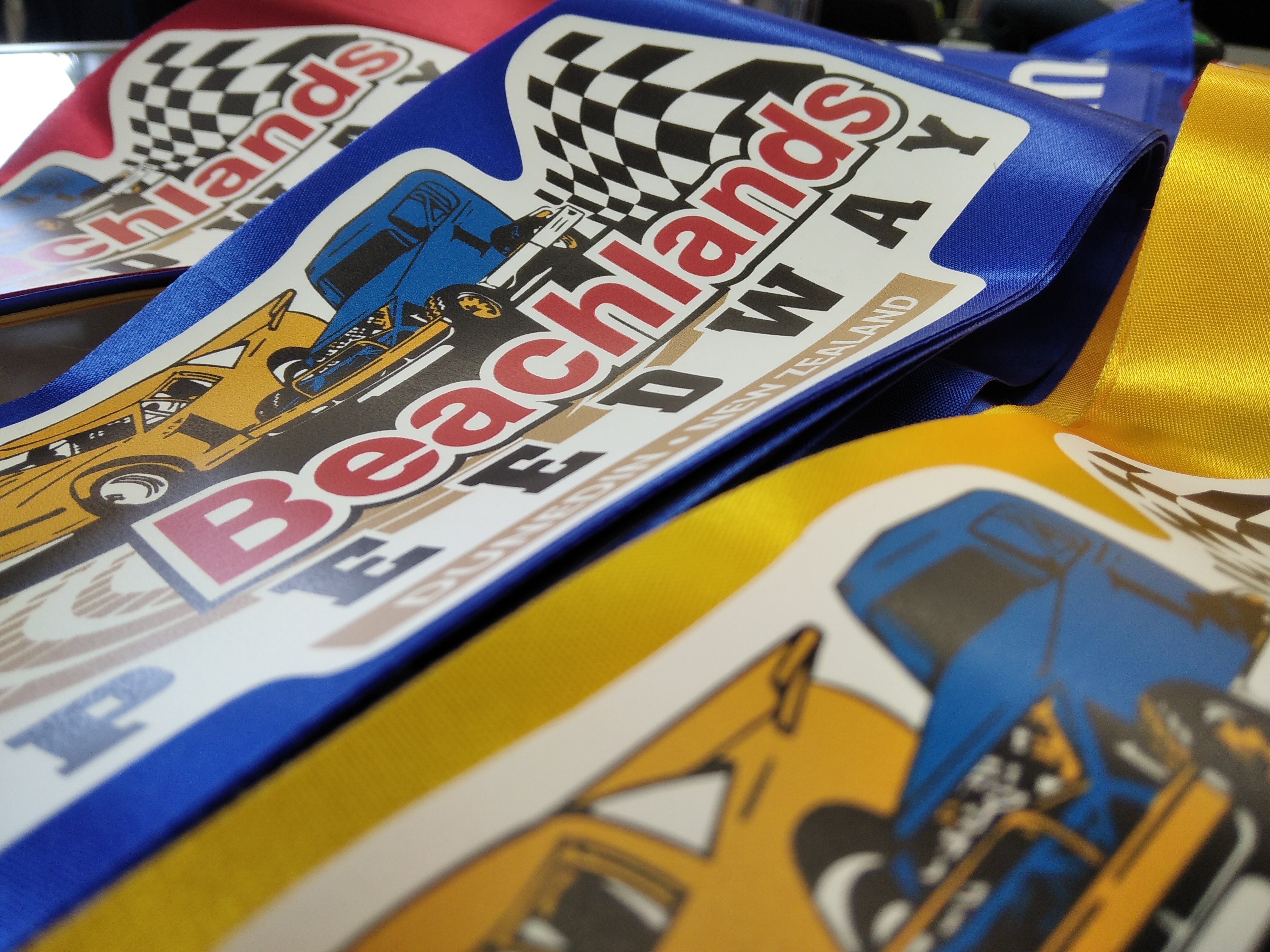 It's great to see Beachlands Motor Speedway kicking into gear for the season again. The drivers live to race but they love earning these winners sashes when they can too.
We've been making these for the Speedway for years but there's nothing like the first run of the season to remind us summer is just around the corner.
Branding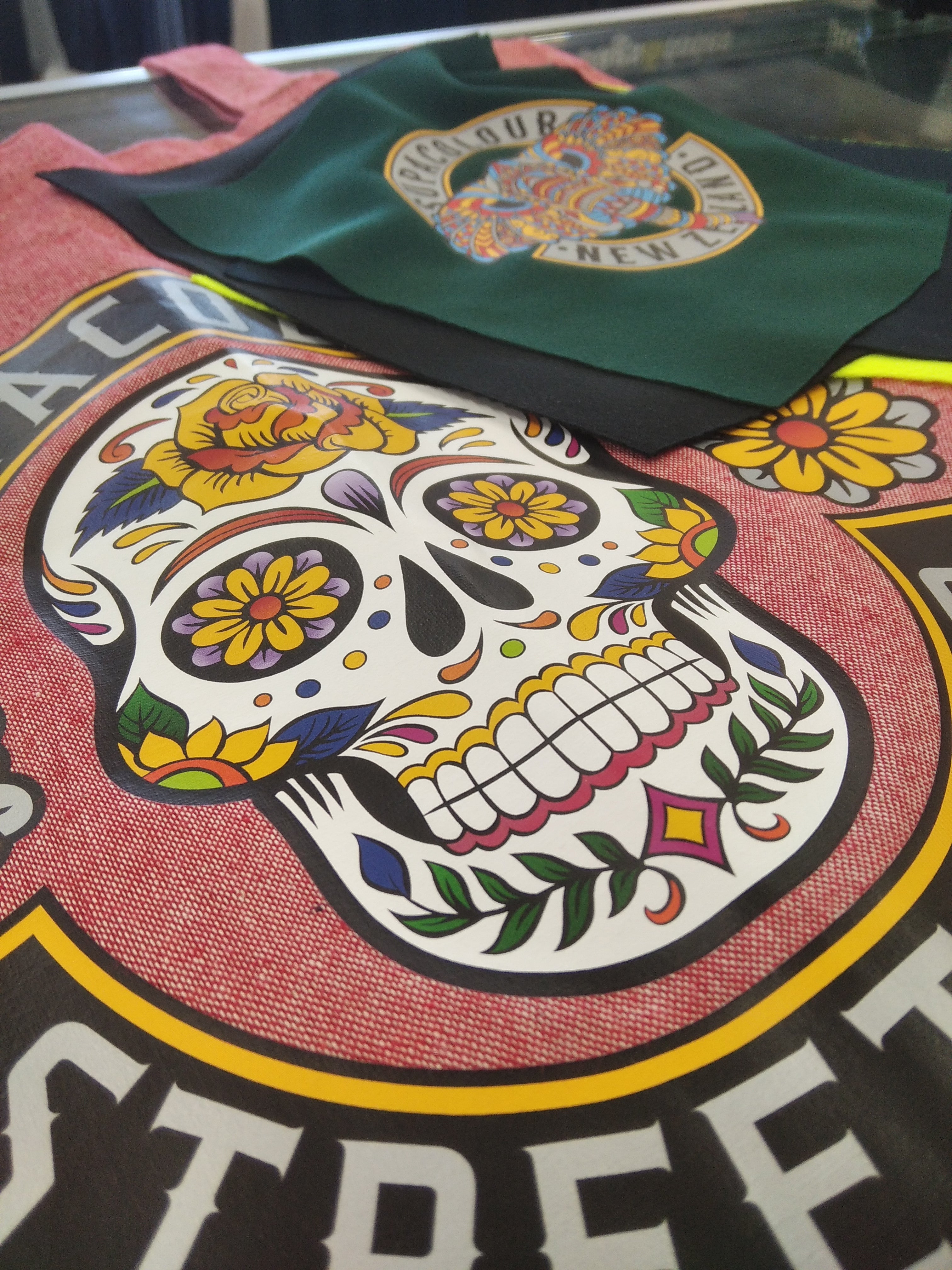 Every once in a while something comes along to revolutionize the branding industry. Sometimes it takes a little bit of learning and adjustment but Supacolour is one of those other revolutions that makes life much simpler and meshes in with existing techniques for a seamless transition.

Stunning full colour prints we can transfer to the garment of your choosing with outstanding savings and great durability.
Traditional screen printing still has it's place as does vinyl heat transfers but this combines the two for an option that suits full colour in large quantities.
Face Masks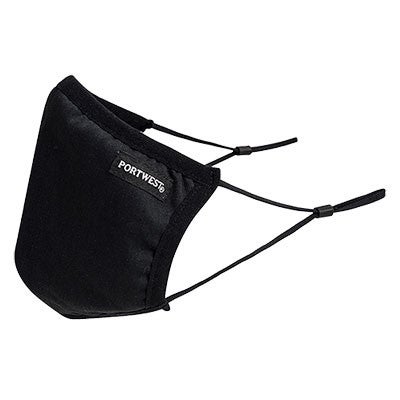 We've likened it to covert dealings in elicit substances when all the EmbroidMe's in NZ are messaging each other asking who knows who has face mask supplies...how much they are....who has a pre-order going through for masks coming in soon...are they adjustable?

But because of this fantastic network of committed owners we are sourcing face masks where sometimes there seems to be none and are going flat out like a lizard drinking to get these branded and out to those businesses keen to keep their staff and clients safe in the new level 2.5.

Jacinda might be proud as punch of her team of 5 million but I'm super-proud of our team of stores across New Zealand for helping each other out and making sure everyone is doing OK no matter what alert level they're sitting at.
Proud Supporters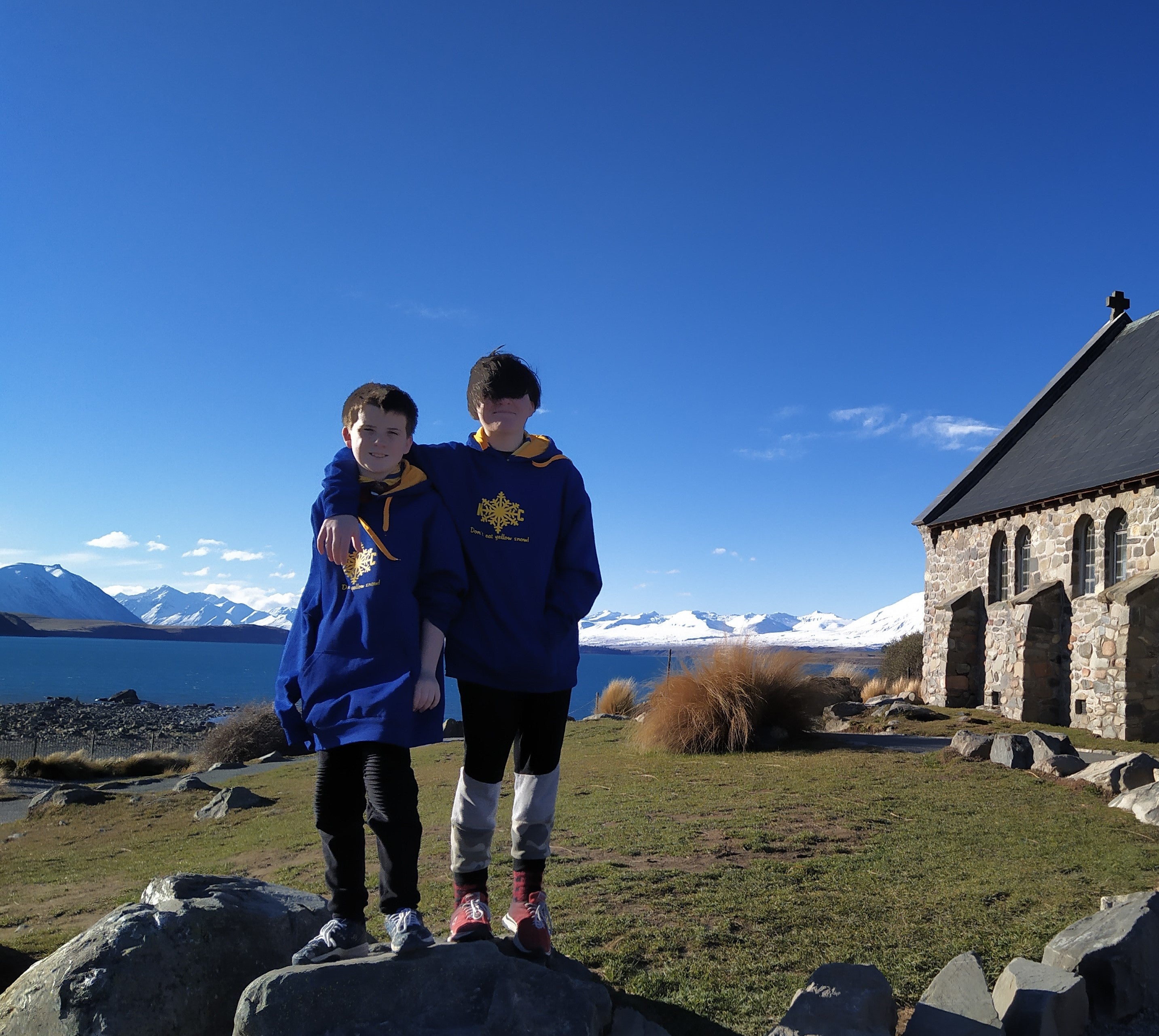 For two years we've been deep in planning for the Scout camp to end all Scout camps for our little group. One part we wanted to deliver on was a commemorative hoodie for the participants - lucky, lucky we should know someone who does exactly this sort of thing. With a generous sponsorship from Aurora Clothing we were able to customise the hood linings and keep our tight budget in check. The youth were super stoked to get their hoodies at the beginning of camp and, by all reports, it's been darn hard to get them to put these in the wash since then. A definite upside was being able to see, at a glance, where all of our youth were.
The team looked MIGHTY sharp as we took Fairlie/Lake Takapo (Tekapo) by storm......just before the real storm hit.
Corporate Gifting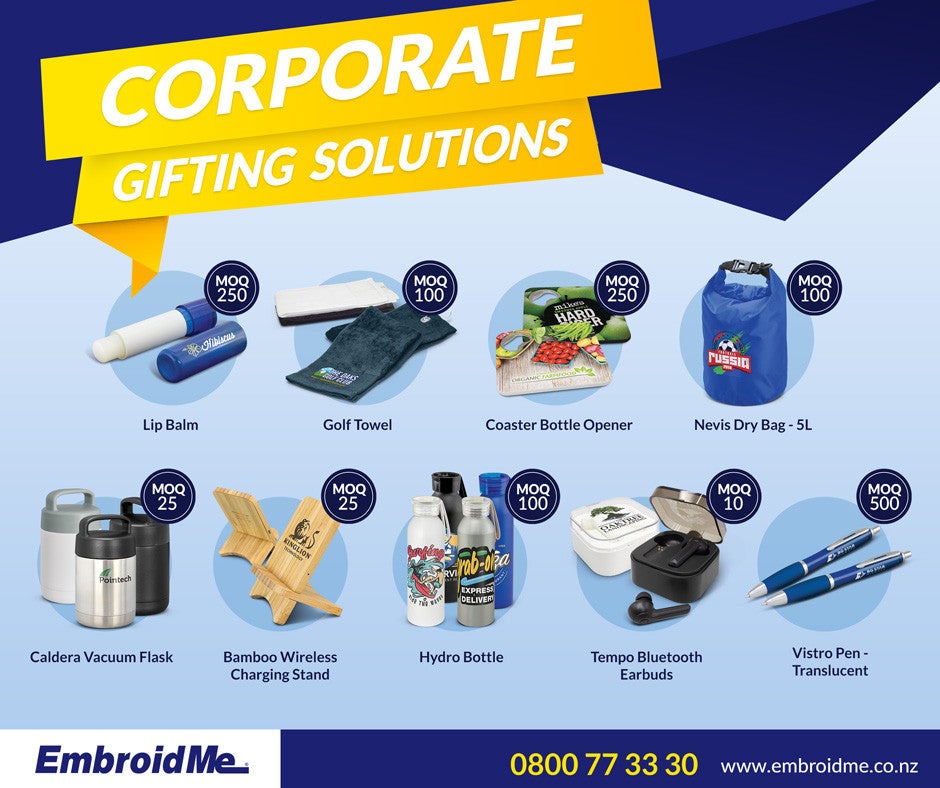 Making sure your business name is the first people think of when considering who to contact for goods and services is always a challenge. Thanks to Trends and EmbroidMe this can be as simple as a conversation around appropriate corporate/workplace gifting.
This week sees some rather special keyrings making their way into race packs for the Impact Plumbing Surf to Stadium run/walk and we're pretty proud of the outcome - we worked with the tight budget and turnaround time to come up with something applicable to the event and immensely useful after the fact as well. Happy running you wonderful/crazy kids! Think I'll sleep-in instead.
Smart Mid-Layers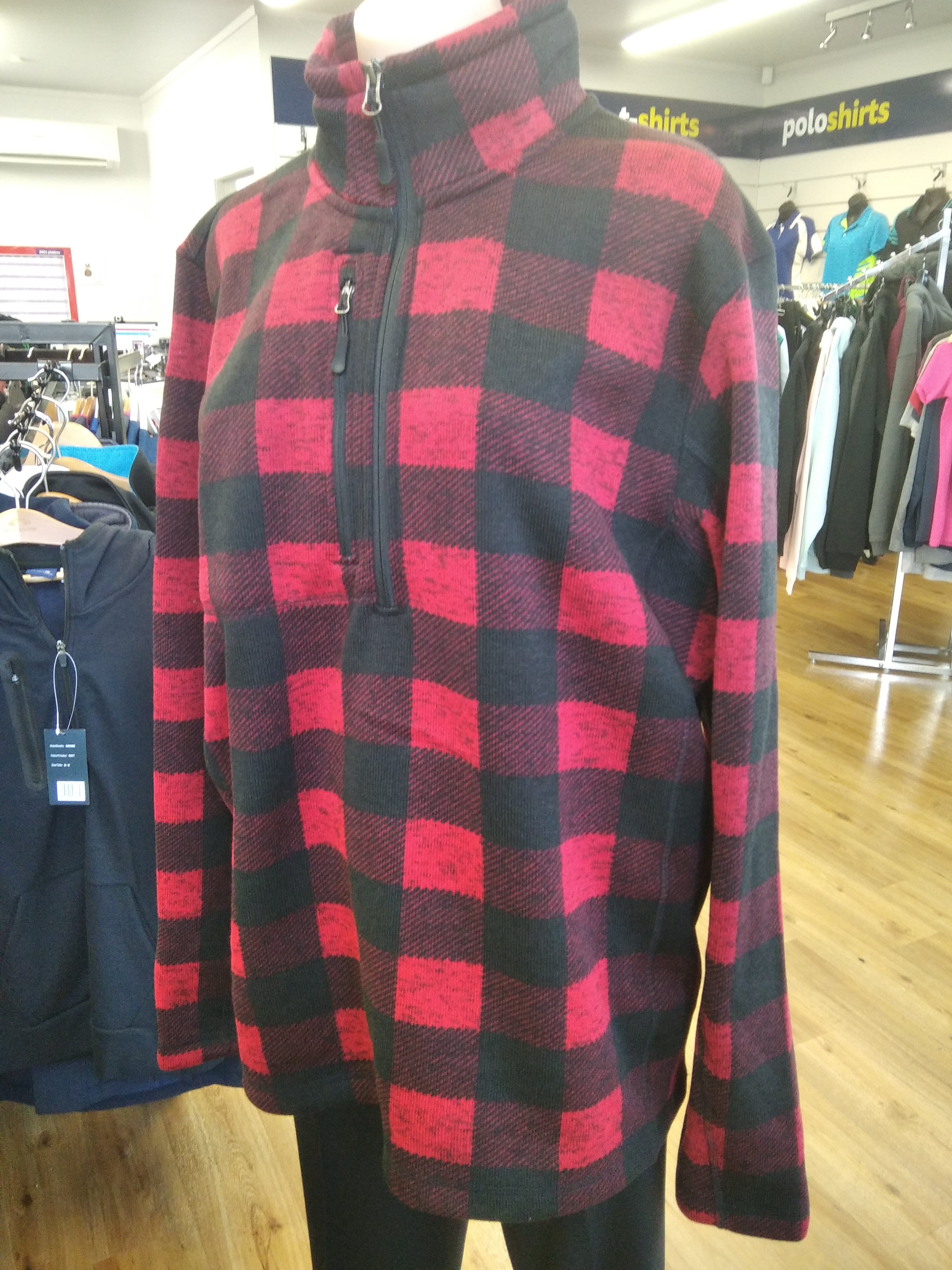 Living in Dunedin we learn to layer up against the cold because it's not always about being super cold - we all joke about 4 seasons in one day but it's not far from the truth sometimes.
Check out all our super awesome mid layers offering all the comforts of extra warmth but with the flexibility of being just a light jacket.
Full Customisation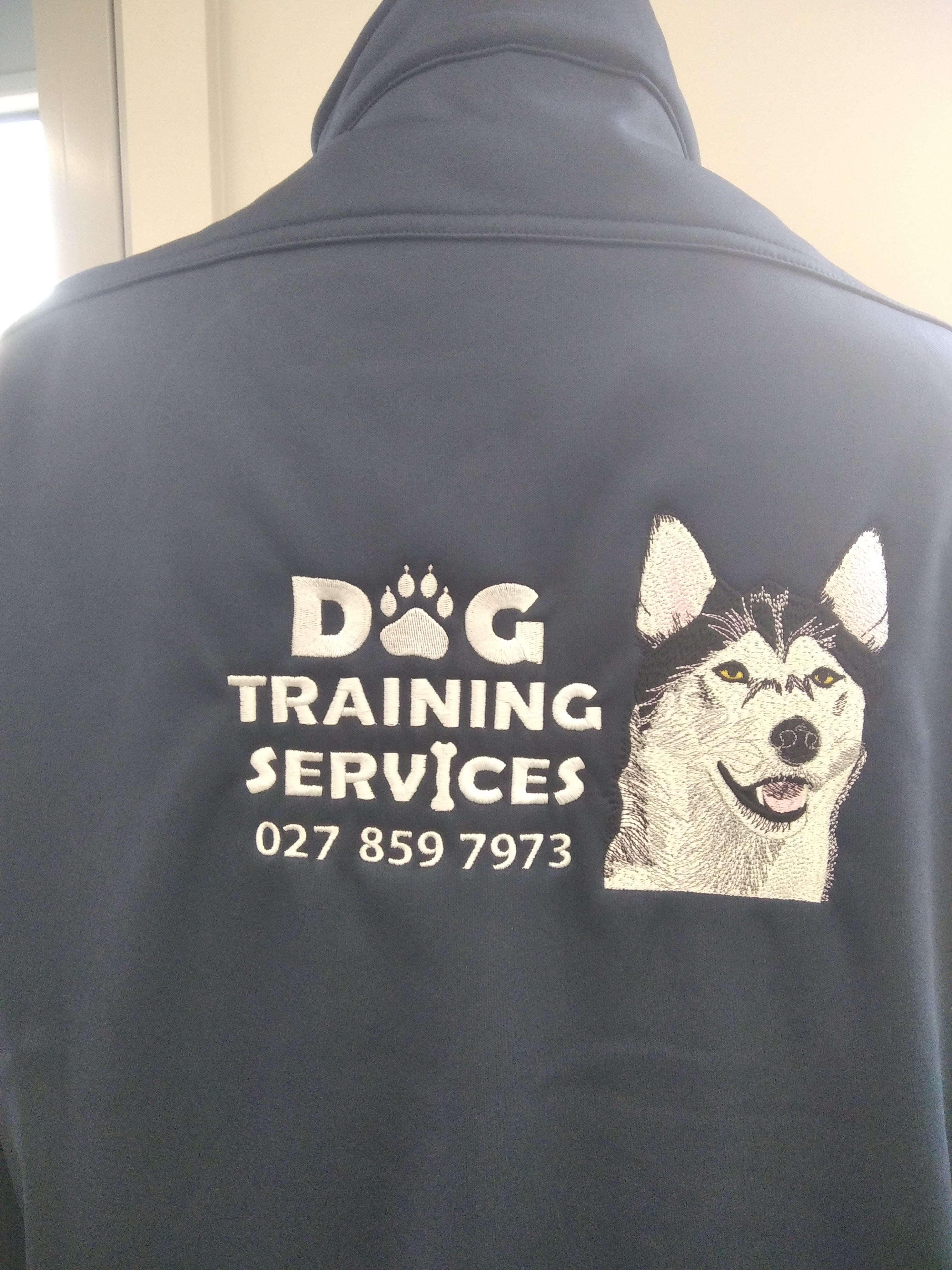 Just a little bit proud of what our team can accomplish when set a challenge like this....and the customer is thrilled at the outcome. If our dog was not beyond redemption we would have the little blighter there in a heartbeat." class="sharethis-inline-share-buttons">
We were given a text logo and photo of a beloved pet for our next project. "Can you make him look like a dog but with embroidery?" We sure can! He'll look fabulous by the time we finish. A wee peek at the finished result....and yes, that dog is 100% embroidered.
Just a little bit proud of what our team can accomplish when set a challenge like this....and the customer is thrilled at the outcome. If our dog was not beyond redemption we would have the little blighter there in a heartbeat.
Anti-Racism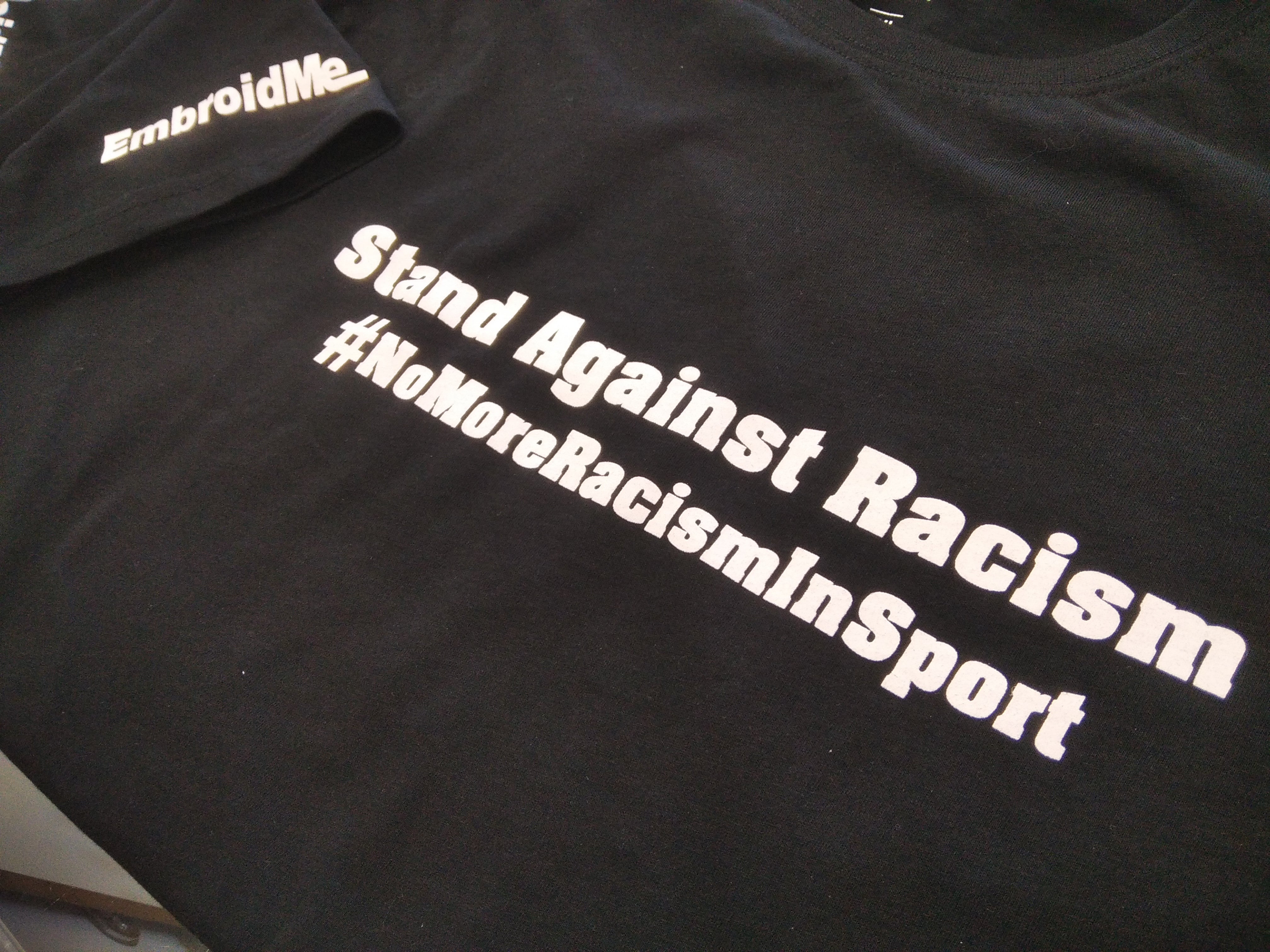 I had a phone call last night from a young lady who had been the subject of abusive language based around the colour of her skin on the sports field and agreed that taking a stand was in order.
It was time to put the thinking cap on - it needs to be a call to action, catchy, hash tagged if necessary: F.A.R.T - Footballers Against Racist Taunts! No call to action; funny, but not quite what we're aiming at.
You kiss your mother with that mouth? notmysport - hmm, still not quite the call to action we need.
Talked some more and came up with a classic
Stand Against Racism - NoMoreRacismInSport. Get behind it folks - share that hashtag about. No-one should be expected to put up with that sort of hate speech while doing a sport they enjoy and EmbroidMe stands behind this team on this 100%..
Zippies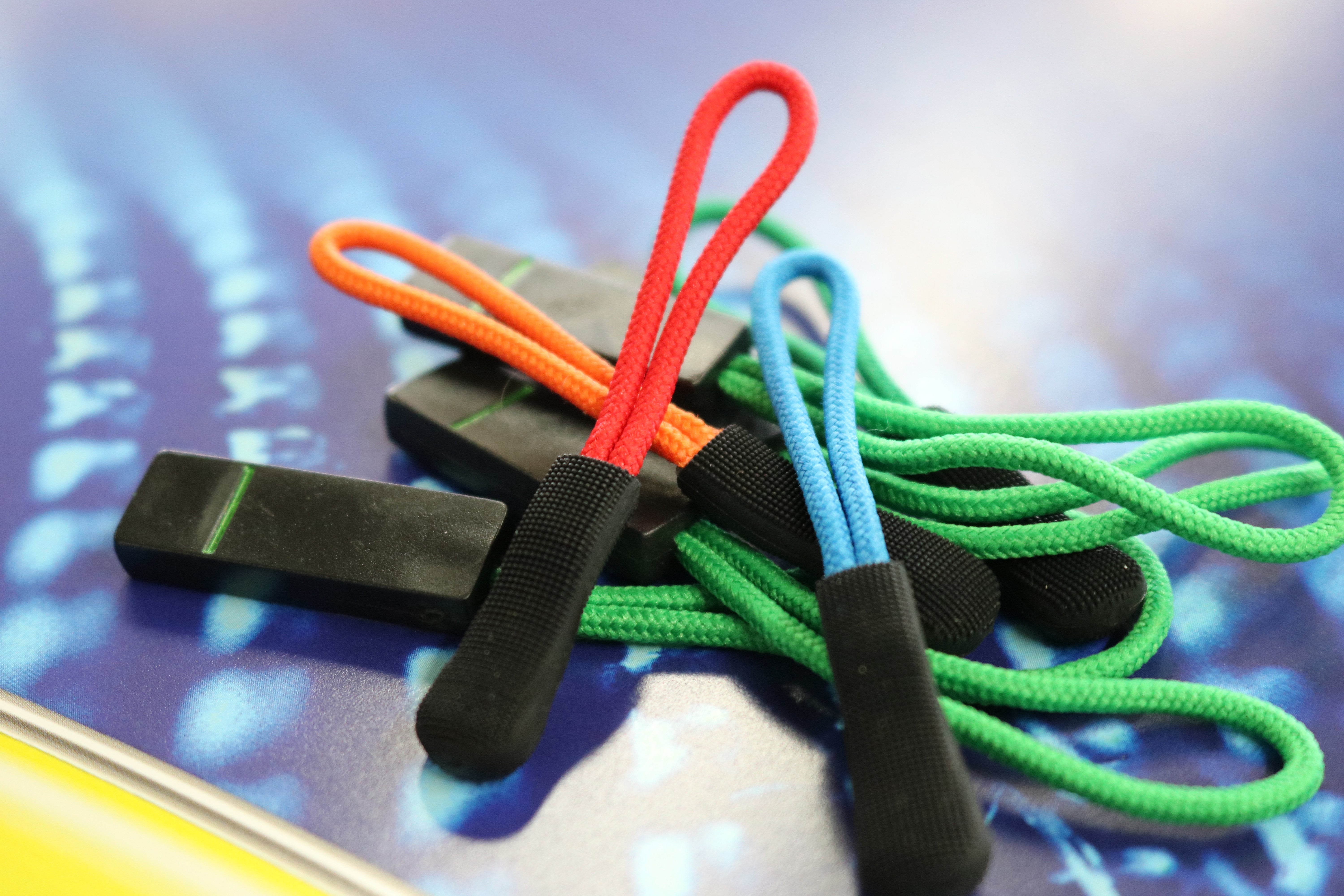 Need to add a distinctive edge to your team's jackets this year. Ever thought of using your zip pullers to do that for you? We have a range of zippies to choose from at EmbroidMe - come in for a chat about what it is you want to achieve with your team/work wear.
Event Tees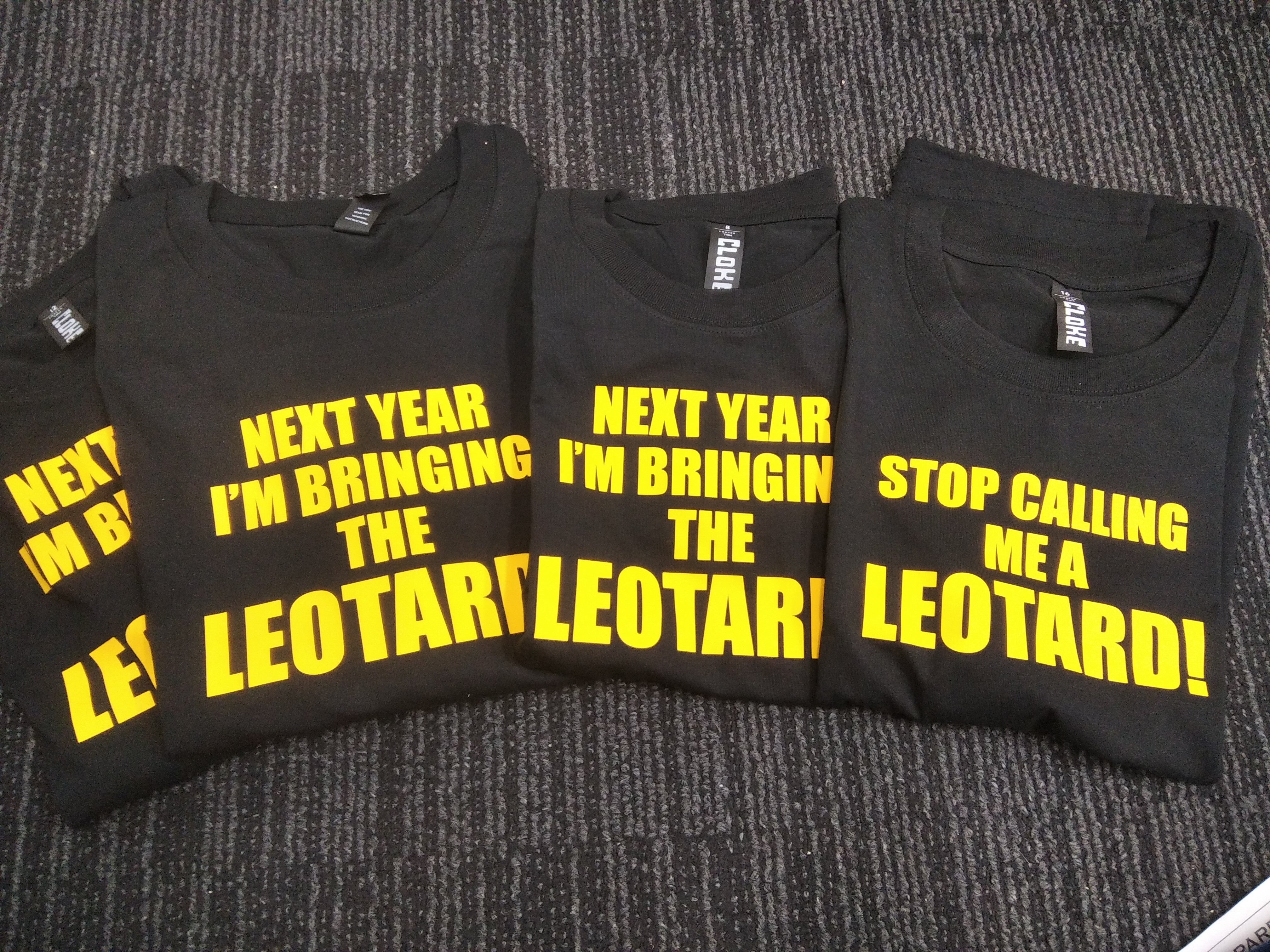 This weekend the second Mackenzie Half Marathon will be ran (or walked)! Just for something a little different this team had a set theme for their group apparel and so this is what they'll be wearing out on the course.
Not sure how fast they'll go but they'll certainly get noticed!
Smart Drinkware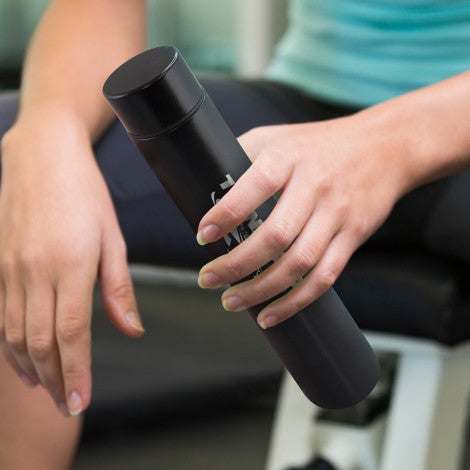 I admit - I'm like a magpie when it comes to sparkly things and new, fancy drink bottles. But this time I gave my sample to a friend who likes going to the gym (not my jam and hubby says I have too many drink bottles cluttering up the cupboard anyway). She has tiny hands so this slimline drink bottle seems like a great option for carrying from station to station without looking like she's lugging something twice her size with her.
She tells me she LOVES it and is the envy of her gym-going buddies. It keeps her water cold and fresh plus looks a bit swish.
Imagine having a few of these out getting noticed with YOUR brand on them? That's some great advertising for your brand!!
Eco Friendly
It's something we are hearing more calls for and our suppliers are listening. Good folks like yourselves are looking at those steps we can take in our everyday consumerism to take better care of our planet. At EmbroidMe Dunedin we look after your uniform and promotional products needs but we're on the lookout for those little things too so that you have more choice in how this can be achieved on a local scale.

You're awesome - keep up the hard work!
New Jerseys For Fiji in Just ONE Day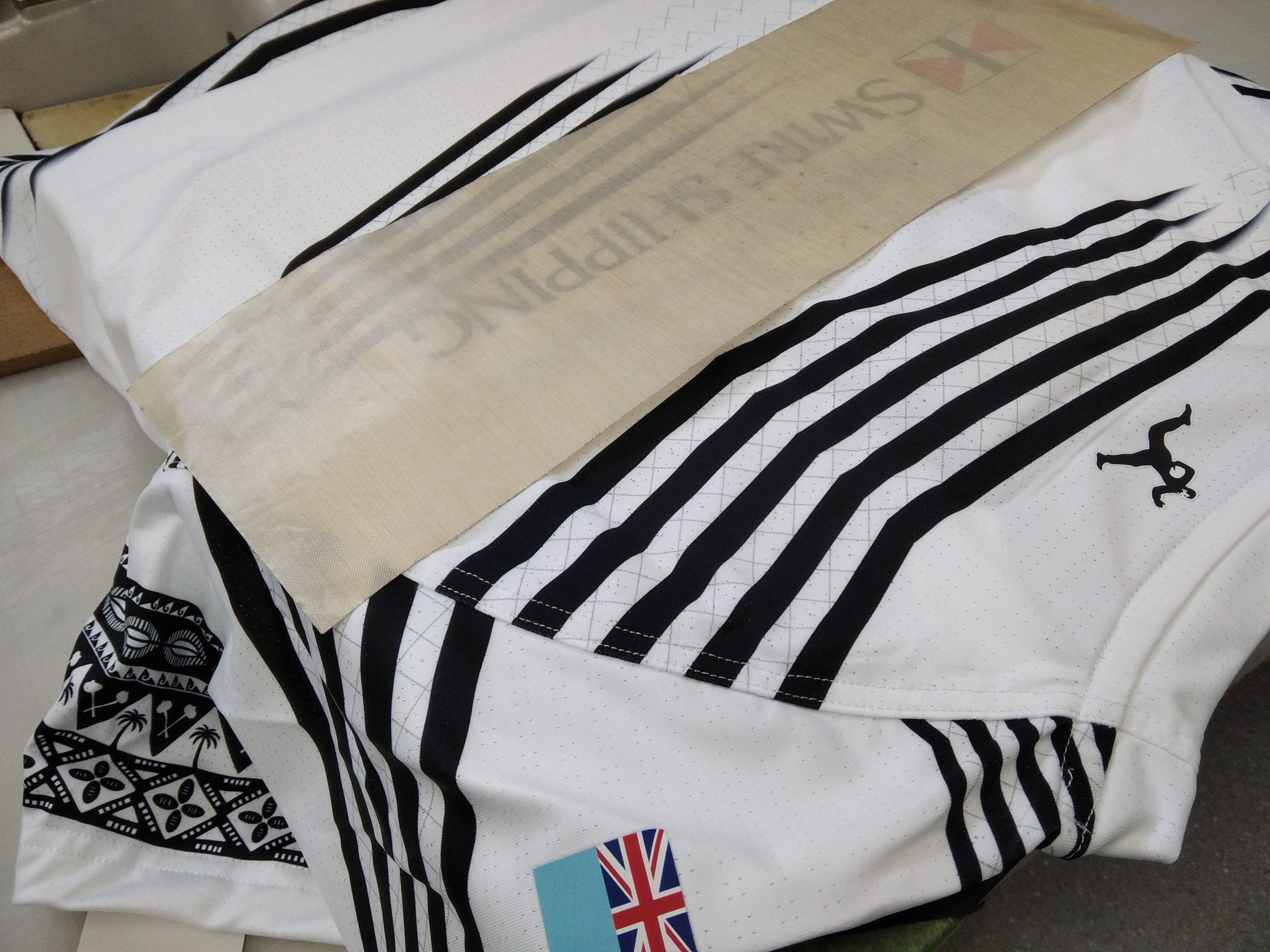 Excitement as the Fijian rugby team arrived in New Zealand soon dissipated as they realised their uniforms had gone elsewhere. Four days before the match the jerseys turned up, but in a different city and with no sponsors' logos on yet.

EmbroidMe Dunedin dropped everything and jumped in to help. The precious cargo was driven from Christchurch to Dunedin and EmbroidMe got to work putting on the finishing touches on 24 jerseys. One fully kitted out team and a bundle of happy sponsors later... and as everyone now knows, disaster struck and there was, ummm... one dubious logo!

With just 24 hours to go until game time, it was another road trip to Christchurch to pick up more jerseys and the EmbroidMe team was back on the production line, the second kit turned out in record time. Phew!

We're so happy to be able to help our Pacific neighbours look game-ready at Forsyth Barr Stadium and always up for the challenge of solving what seems to be an insurmountable problem.
We Support!
EmbroidMe Dunedin are staunch supporters of the Otago Gang Show (Scouts and Guides from the lower South Island). The cast and backstage tees plus scarves look awesome this year and the show is going to be even better. We encourage you to get along and show your support for an amazing youth organisation. Tickets on sale at www.otagogangshow.com - the shows
Corporate Gifting for Every Season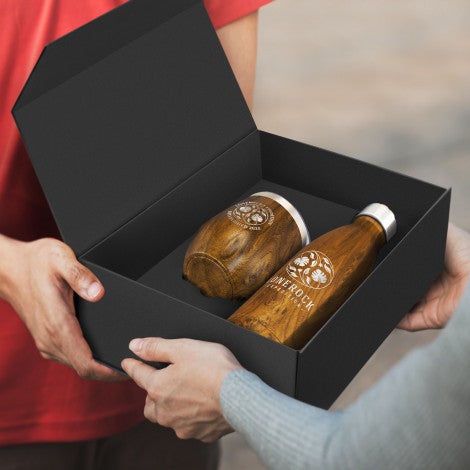 For gifting for every season (Dunedin in one day) why not look at box sets? Thermal bottles and cups are a great way to get your brand out there rain or shine or *coff - snow*.
Everyone loves to get a little appreciation especially when it's something as stunning as this boxed set with wood grain finish. I'd be pretty happy to receive this set....so long as you got it from EmbroidMe Dunedin though ;) FYI it's my birthday at the end of winter so you've got time.
Free Beanies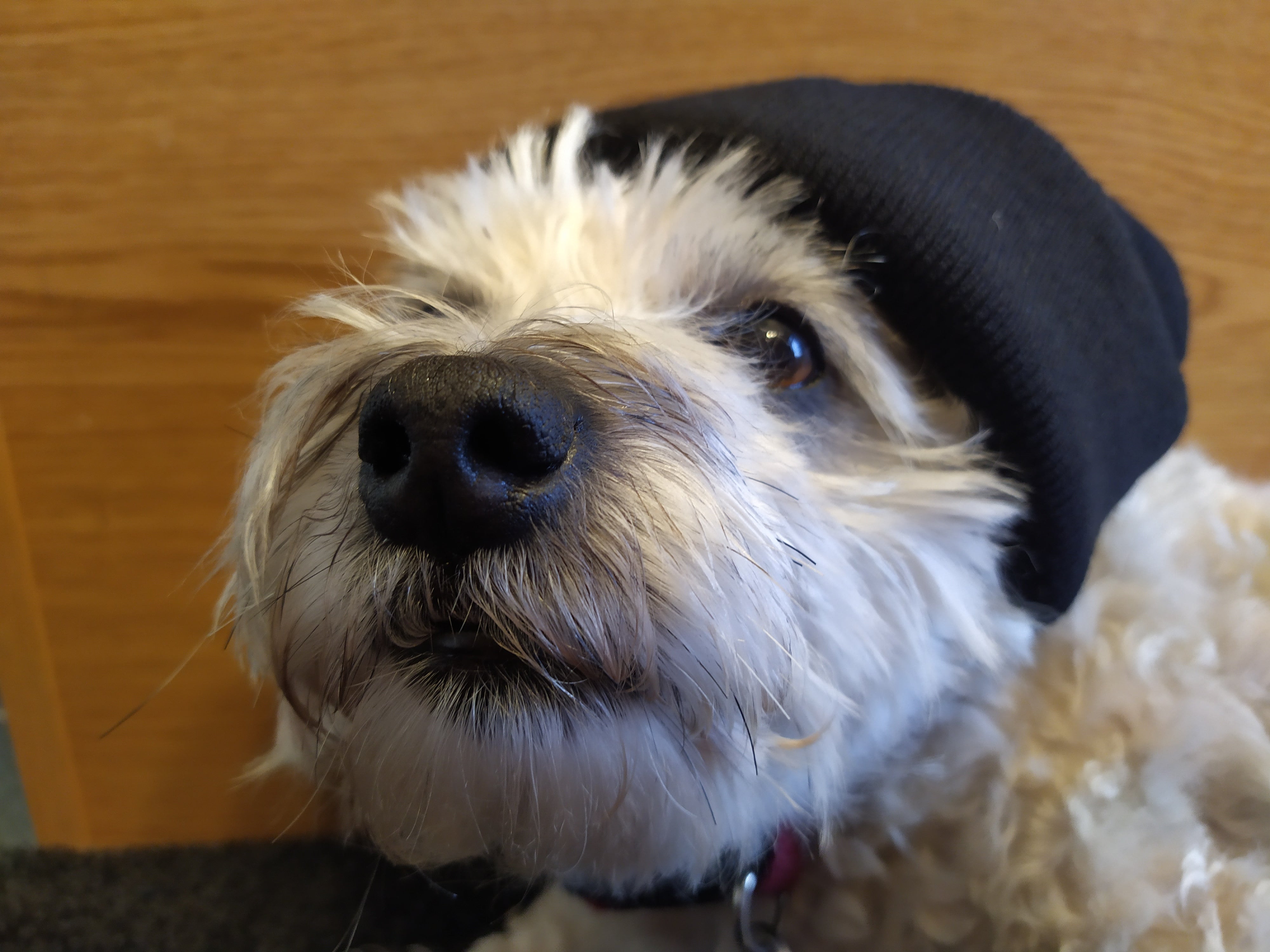 It turns out the dog is not a big fan of beanies but this winter staple is well represented in our house and particularly useful at all those outdoor activities the kids are heavily involved in.
And so it's that time of year again to put up our FREE beanie with every jacket purchased and branded at EmbroidMe Dunedin for the months of May and June (2021).

Dusty might pass but at least he's a better doorbell than high fashion model, right?
Winter Special - Free Setup on the Nova Cup!

Manufactured from borosilicate glass, with a secure push on silicone lid and a wide heat-resistant silicone band, the Nova Cup (Borosilicate) is an eco-friendly alternative to single use paper cups. Available in two sizes.

If you order 100 units or more before 30th September, you'll receive free setup!

Give us a call on 03 477 7057 to place your order!
It's starting to feel a lot like winter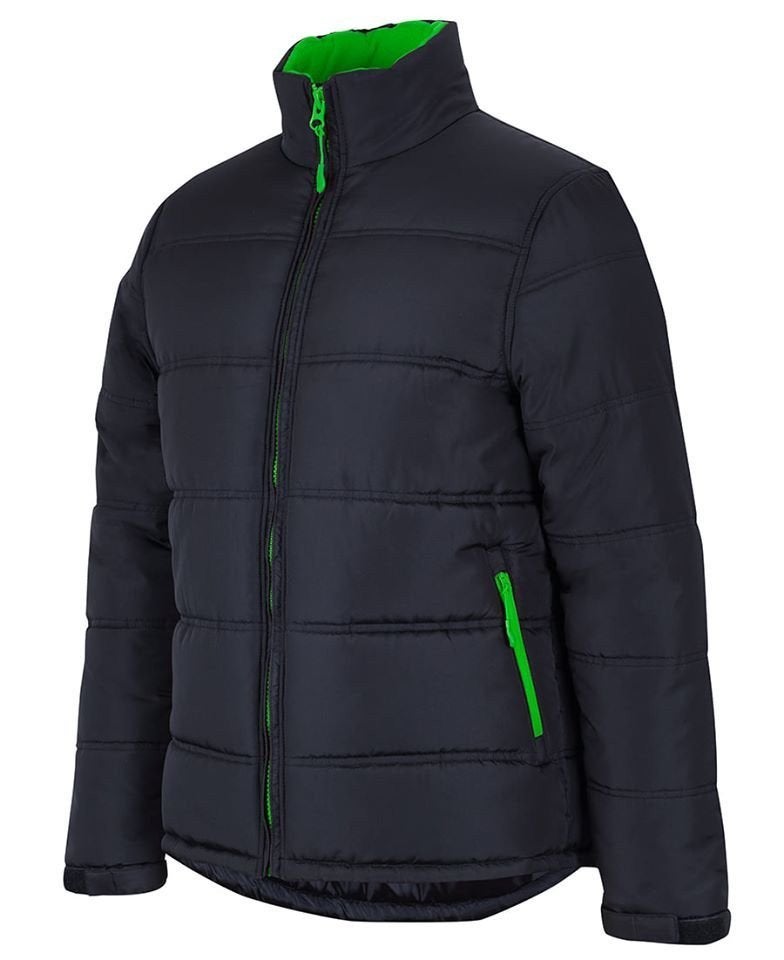 It's starting to feel a lot like winter now and we have a great selection of puffer jackets and vests to keep warm with. Plenty of opportunities to add a pop of colour with contrasting linings, zips and zip pullers. Have a look at how you can up the WOW factor with your puffers with EmbroidMe.