Branding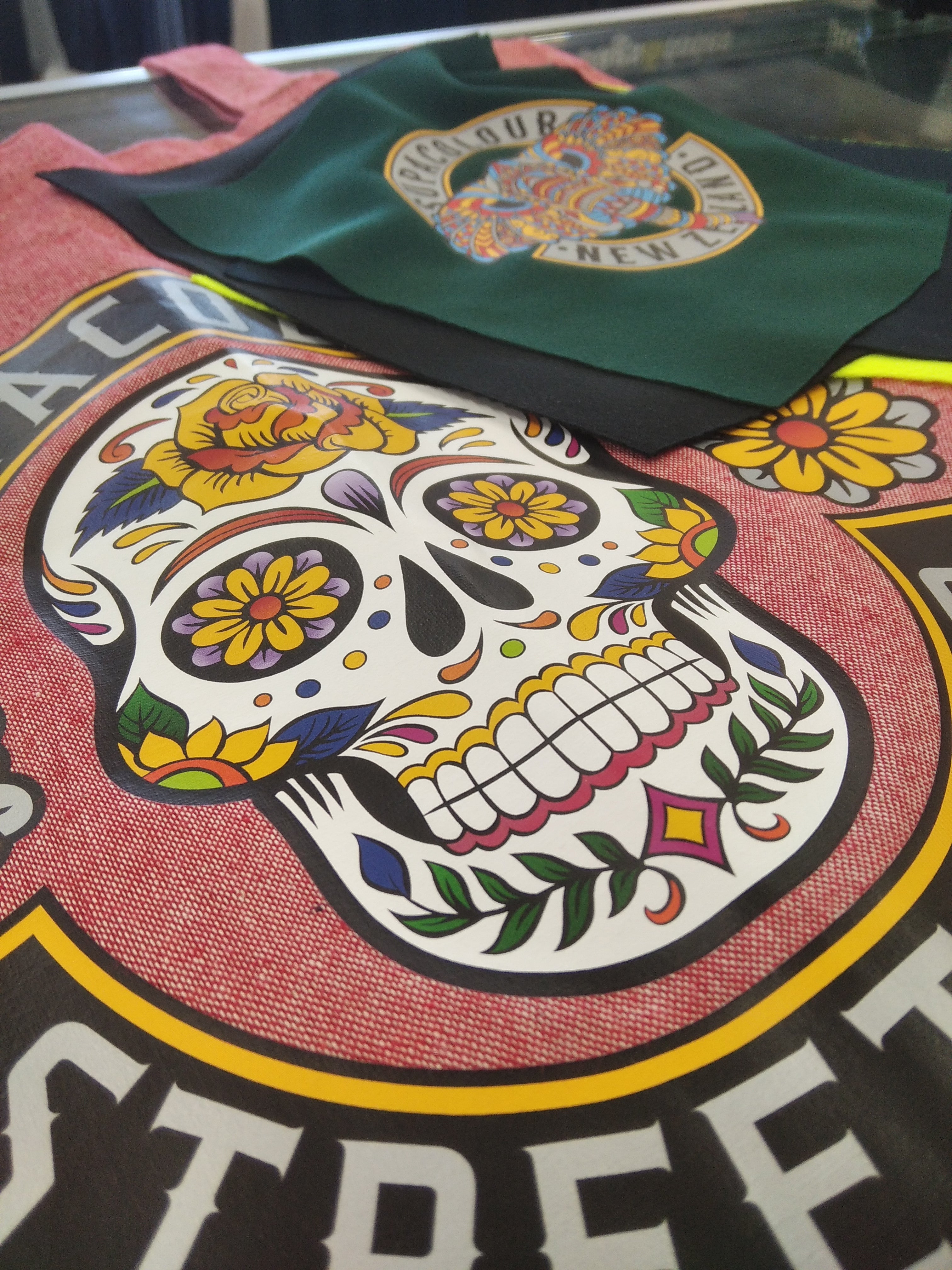 Every once in a while something comes along to revolutionize the branding industry. Sometimes it takes a little bit of learning and adjustment but Supacolour is one of those other revolutions that makes life much simpler and meshes in with existing techniques for a seamless transition.

Stunning full colour prints we can transfer to the garment of your choosing with outstanding savings and great durability.
Traditional screen printing still has it's place as does vinyl heat transfers but this combines the two for an option that suits full colour in large quantities.
Face Masks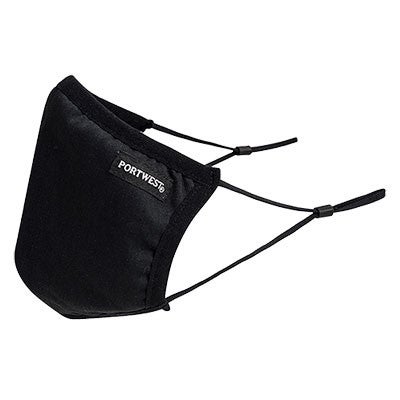 We've likened it to covert dealings in elicit substances when all the EmbroidMe's in NZ are messaging each other asking who knows who has face mask supplies...how much they are....who has a pre-order going through for masks coming in soon...are they adjustable?

But because of this fantastic network of committed owners we are sourcing face masks where sometimes there seems to be none and are going flat out like a lizard drinking to get these branded and out to those businesses keen to keep their staff and clients safe in the new level 2.5.

Jacinda might be proud as punch of her team of 5 million but I'm super-proud of our team of stores across New Zealand for helping each other out and making sure everyone is doing OK no matter what alert level they're sitting at.
Proud Supporters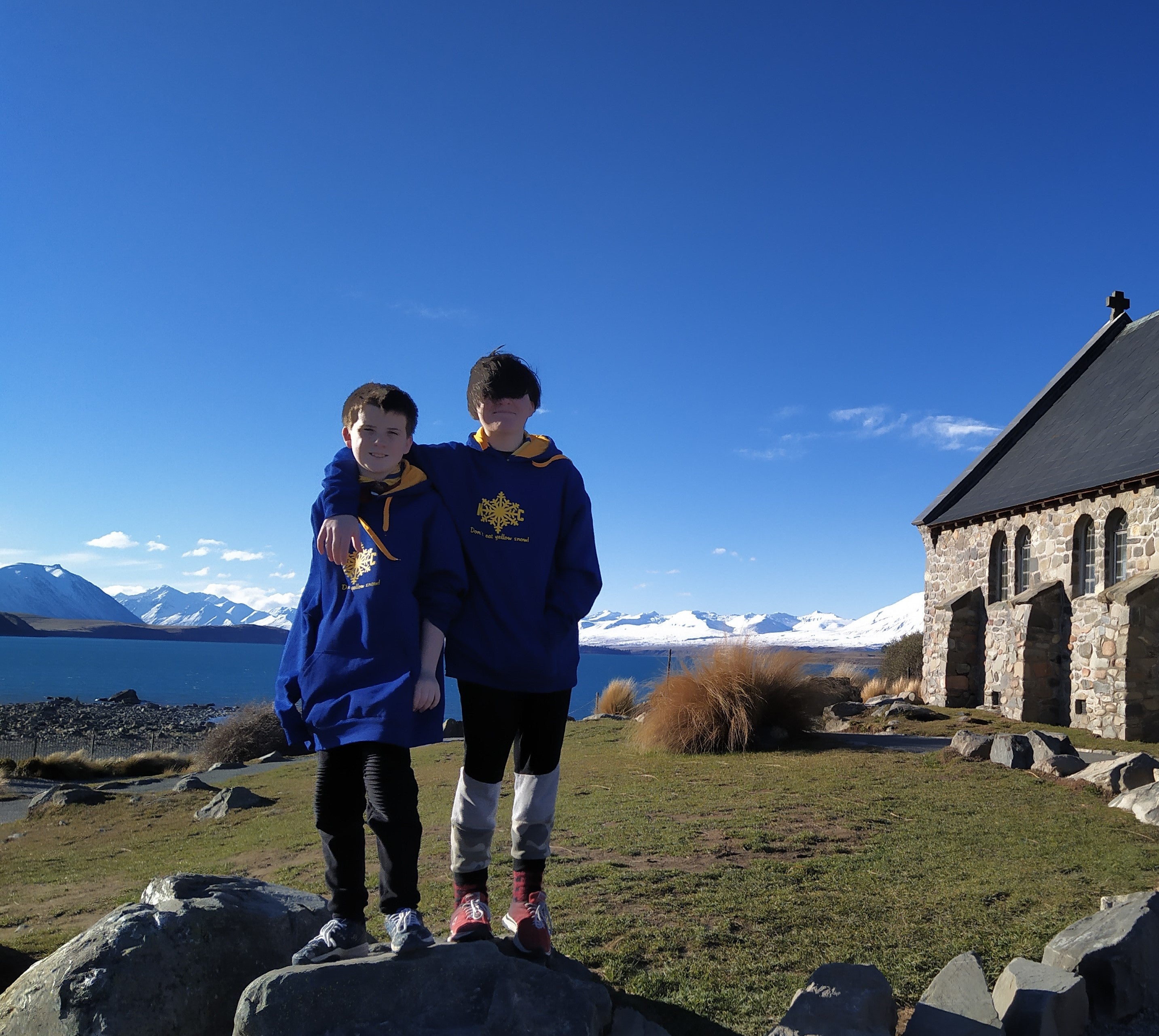 For two years we've been deep in planning for the Scout camp to end all Scout camps for our little group. One part we wanted to deliver on was a commemorative hoodie for the participants - lucky, lucky we should know someone who does exactly this sort of thing. With a generous sponsorship from Aurora Clothing we were able to customise the hood linings and keep our tight budget in check. The youth were super stoked to get their hoodies at the beginning of camp and, by all reports, it's been darn hard to get them to put these in the wash since then. A definite upside was being able to see, at a glance, where all of our youth were.
The team looked MIGHTY sharp as we took Fairlie/Lake Takapo (Tekapo) by storm......just before the real storm hit.
Corporate Gifting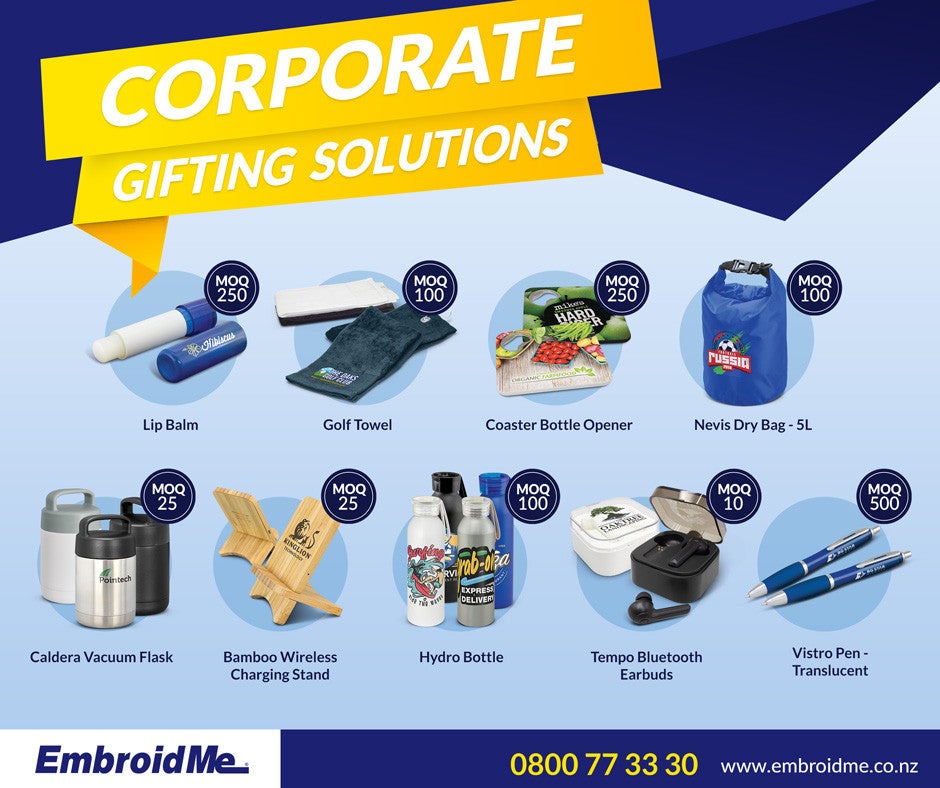 Making sure your business name is the first people think of when considering who to contact for goods and services is always a challenge. Thanks to Trends and EmbroidMe this can be as simple as a conversation around appropriate corporate/workplace gifting.
This week sees some rather special keyrings making their way into race packs for the Impact Plumbing Surf to Stadium run/walk and we're pretty proud of the outcome - we worked with the tight budget and turnaround time to come up with something applicable to the event and immensely useful after the fact as well. Happy running you wonderful/crazy kids! Think I'll sleep-in instead.
Smart Mid-Layers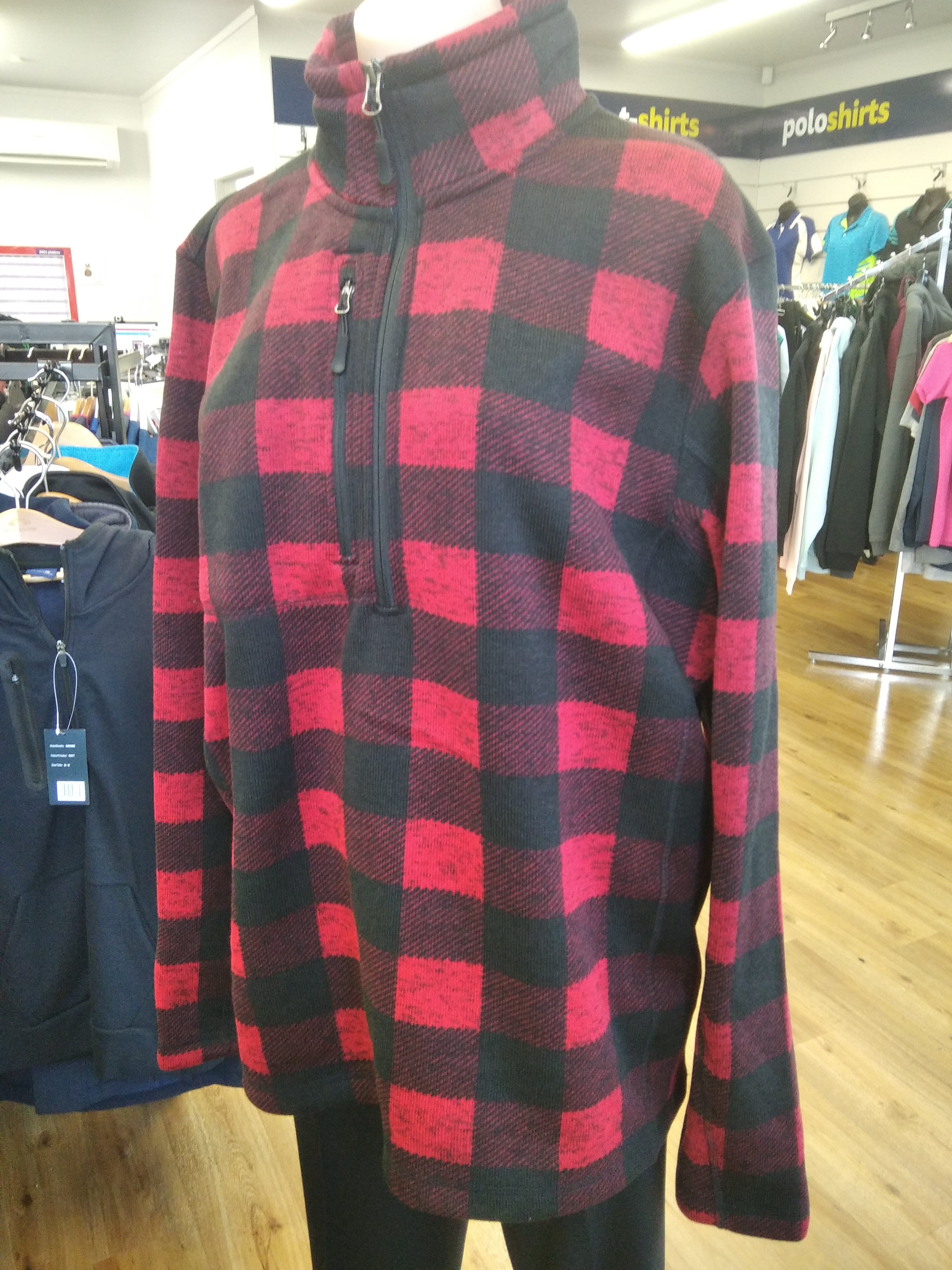 Living in Dunedin we learn to layer up against the cold because it's not always about being super cold - we all joke about 4 seasons in one day but it's not far from the truth sometimes.
Check out all our super awesome mid layers offering all the comforts of extra warmth but with the flexibility of being just a light jacket.
Full Customisation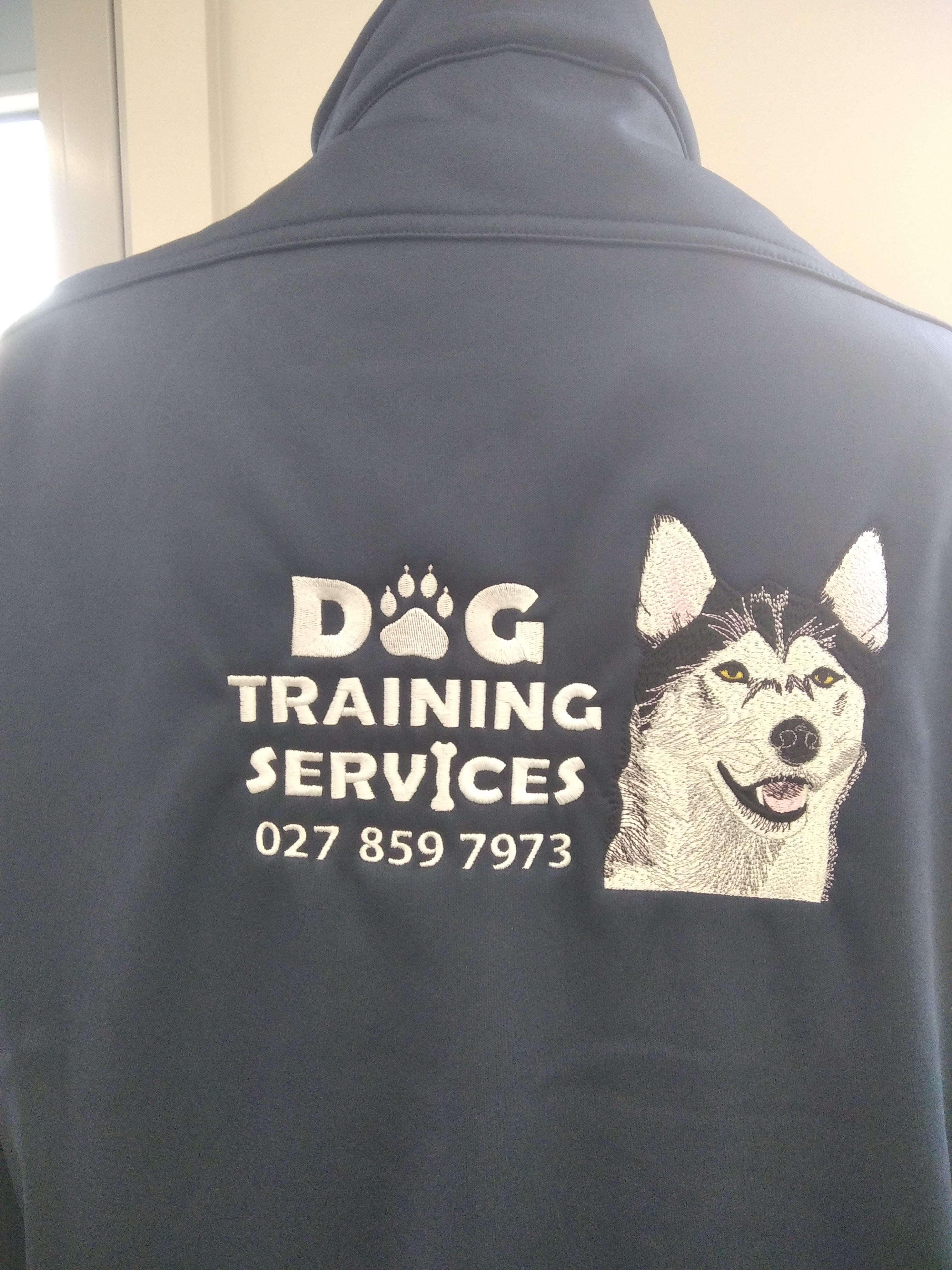 Just a little bit proud of what our team can accomplish when set a challenge like this....and the customer is thrilled at the outcome. If our dog was not beyond redemption we would have the little blighter there in a heartbeat." class="sharethis-inline-share-buttons">
We were given a text logo and photo of a beloved pet for our next project. "Can you make him look like a dog but with embroidery?" We sure can! He'll look fabulous by the time we finish. A wee peek at the finished result....and yes, that dog is 100% embroidered.
Just a little bit proud of what our team can accomplish when set a challenge like this....and the customer is thrilled at the outcome. If our dog was not beyond redemption we would have the little blighter there in a heartbeat.
Anti-Racism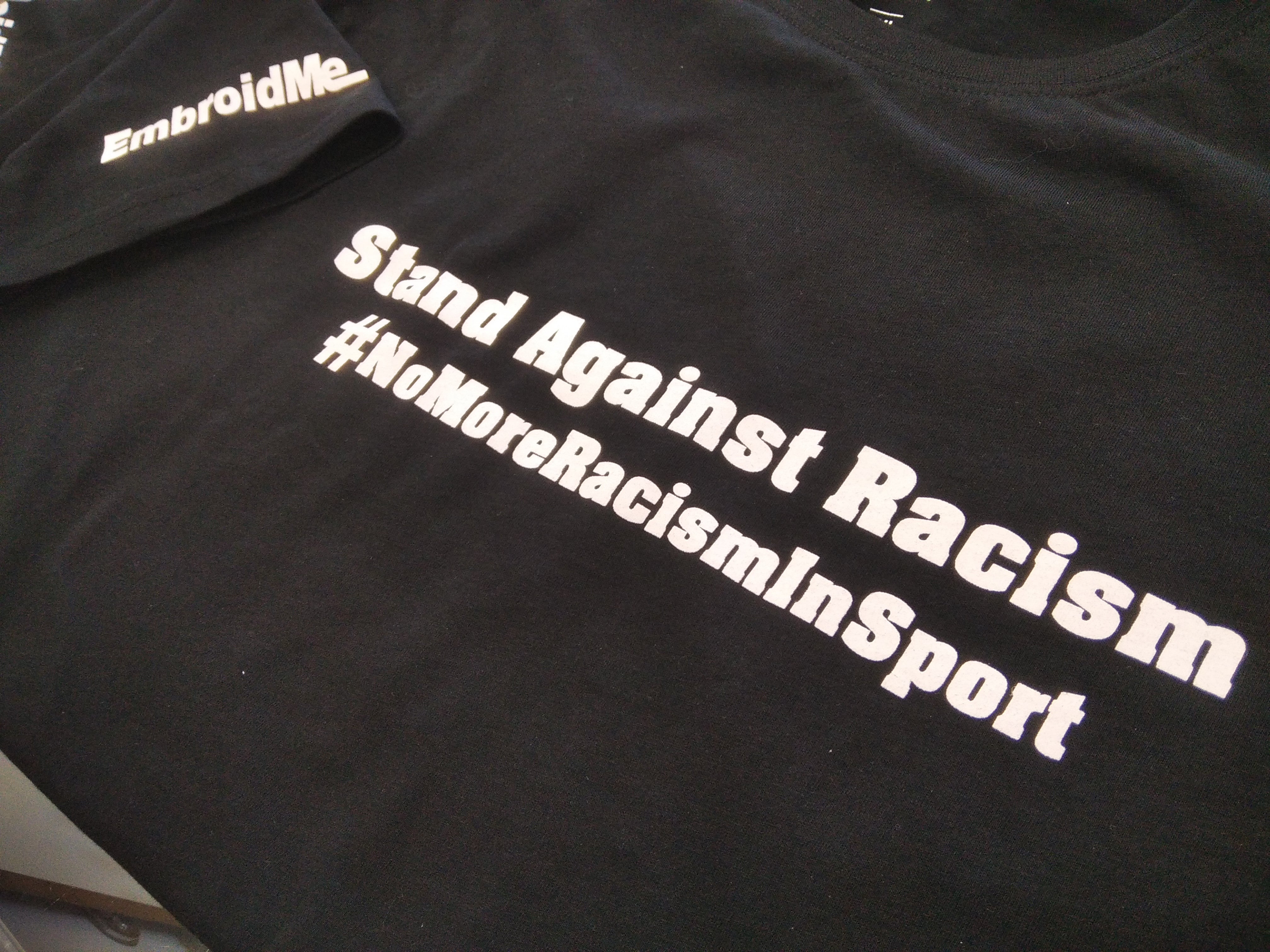 I had a phone call last night from a young lady who had been the subject of abusive language based around the colour of her skin on the sports field and agreed that taking a stand was in order.
It was time to put the thinking cap on - it needs to be a call to action, catchy, hash tagged if necessary: F.A.R.T - Footballers Against Racist Taunts! No call to action; funny, but not quite what we're aiming at.
You kiss your mother with that mouth? notmysport - hmm, still not quite the call to action we need.
Talked some more and came up with a classic
Stand Against Racism - NoMoreRacismInSport. Get behind it folks - share that hashtag about. No-one should be expected to put up with that sort of hate speech while doing a sport they enjoy and EmbroidMe stands behind this team on this 100%..
Zippies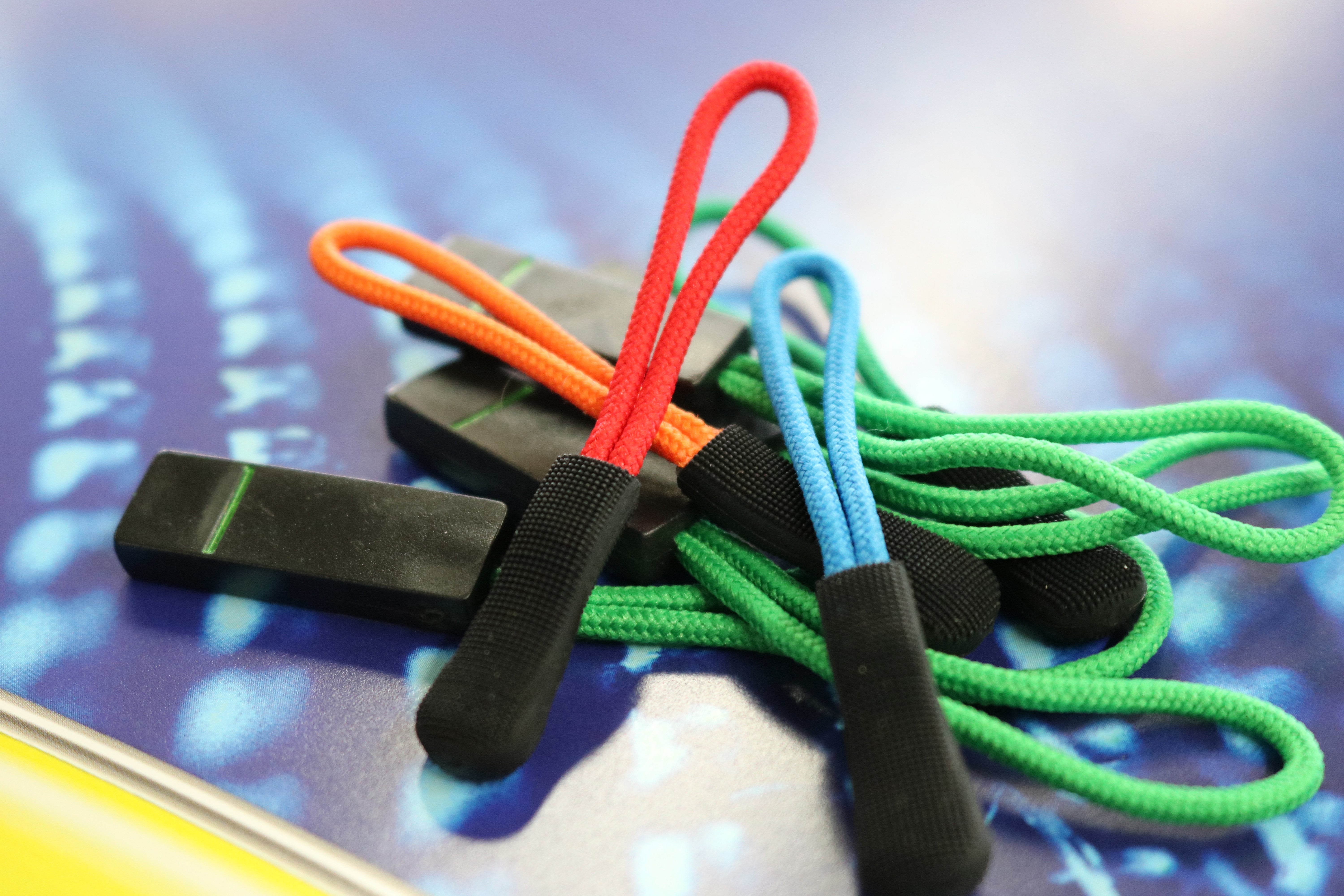 Need to add a distinctive edge to your team's jackets this year. Ever thought of using your zip pullers to do that for you? We have a range of zippies to choose from at EmbroidMe - come in for a chat about what it is you want to achieve with your team/work wear.
Event Tees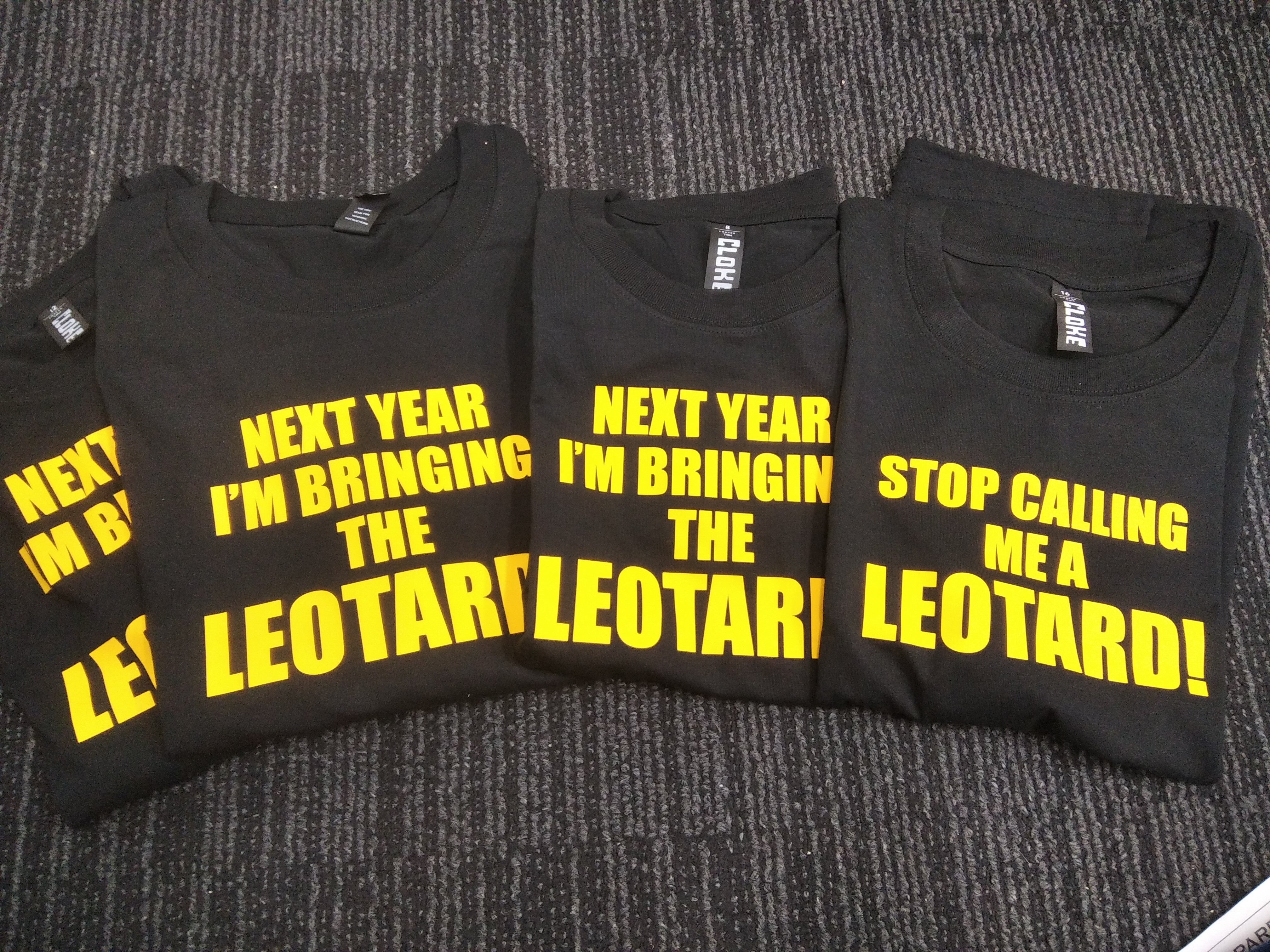 This weekend the second Mackenzie Half Marathon will be ran (or walked)! Just for something a little different this team had a set theme for their group apparel and so this is what they'll be wearing out on the course.
Not sure how fast they'll go but they'll certainly get noticed!
Smart Drinkware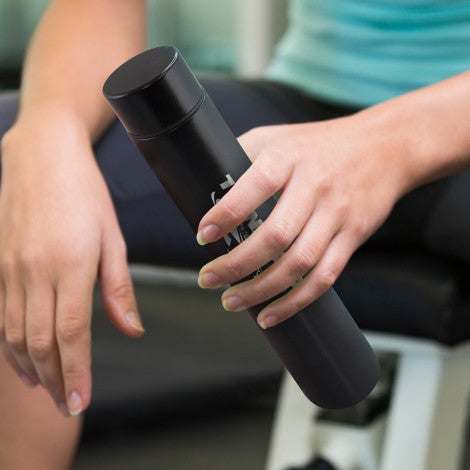 I admit - I'm like a magpie when it comes to sparkly things and new, fancy drink bottles. But this time I gave my sample to a friend who likes going to the gym (not my jam and hubby says I have too many drink bottles cluttering up the cupboard anyway). She has tiny hands so this slimline drink bottle seems like a great option for carrying from station to station without looking like she's lugging something twice her size with her.
She tells me she LOVES it and is the envy of her gym-going buddies. It keeps her water cold and fresh plus looks a bit swish.
Imagine having a few of these out getting noticed with YOUR brand on them? That's some great advertising for your brand!!
Eco Friendly
It's something we are hearing more calls for and our suppliers are listening. Good folks like yourselves are looking at those steps we can take in our everyday consumerism to take better care of our planet. At EmbroidMe Dunedin we look after your uniform and promotional products needs but we're on the lookout for those little things too so that you have more choice in how this can be achieved on a local scale.

You're awesome - keep up the hard work!
New Jerseys For Fiji in Just ONE Day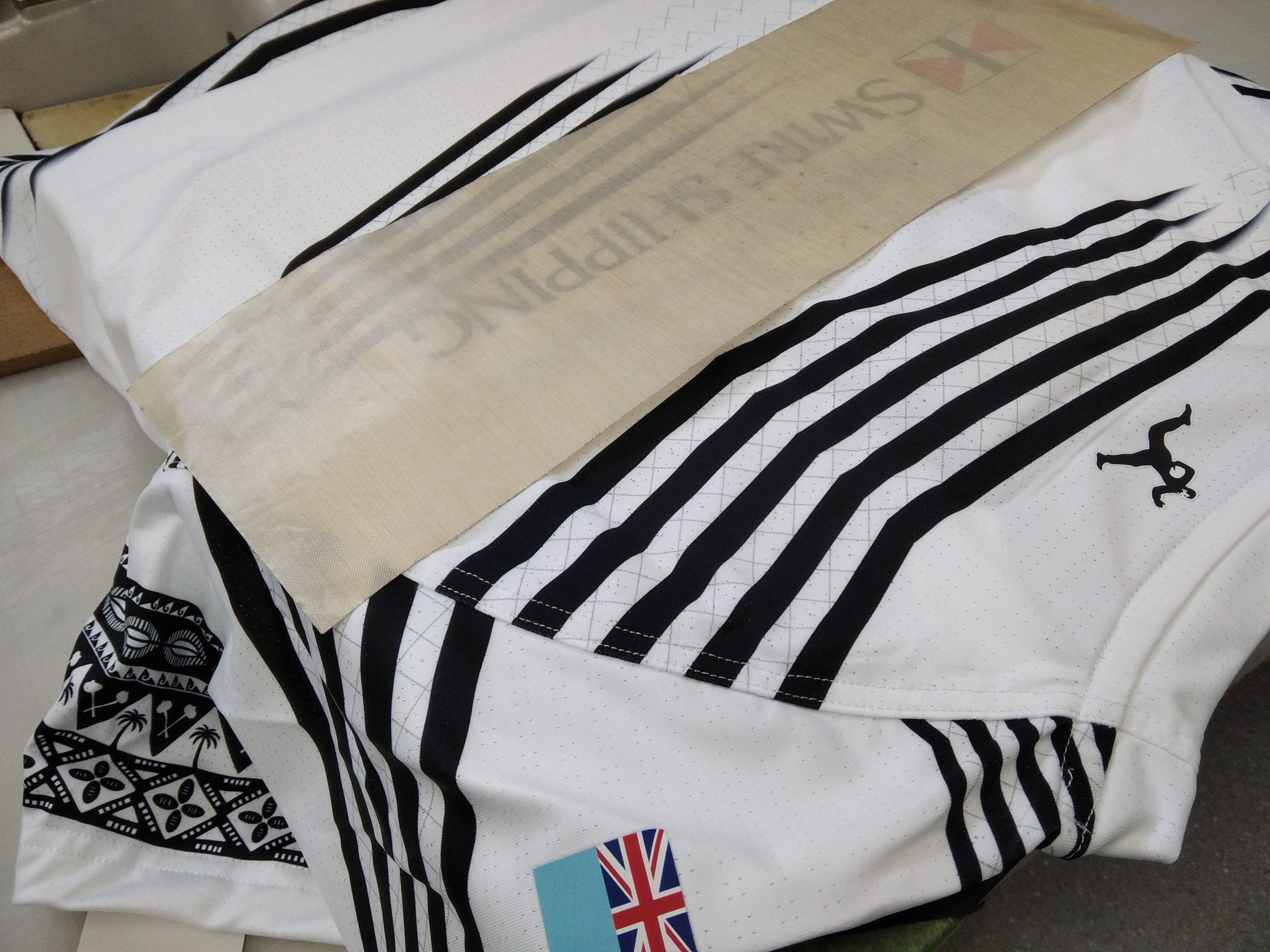 Excitement as the Fijian rugby team arrived in New Zealand soon dissipated as they realised their uniforms had gone elsewhere. Four days before the match the jerseys turned up, but in a different city and with no sponsors' logos on yet.

EmbroidMe Dunedin dropped everything and jumped in to help. The precious cargo was driven from Christchurch to Dunedin and EmbroidMe got to work putting on the finishing touches on 24 jerseys. One fully kitted out team and a bundle of happy sponsors later... and as everyone now knows, disaster struck and there was, ummm... one dubious logo!

With just 24 hours to go until game time, it was another road trip to Christchurch to pick up more jerseys and the EmbroidMe team was back on the production line, the second kit turned out in record time. Phew!

We're so happy to be able to help our Pacific neighbours look game-ready at Forsyth Barr Stadium and always up for the challenge of solving what seems to be an insurmountable problem.
We Support!
EmbroidMe Dunedin are staunch supporters of the Otago Gang Show (Scouts and Guides from the lower South Island). The cast and backstage tees plus scarves look awesome this year and the show is going to be even better. We encourage you to get along and show your support for an amazing youth organisation. Tickets on sale at www.otagogangshow.com - the shows
Corporate Gifting for Every Season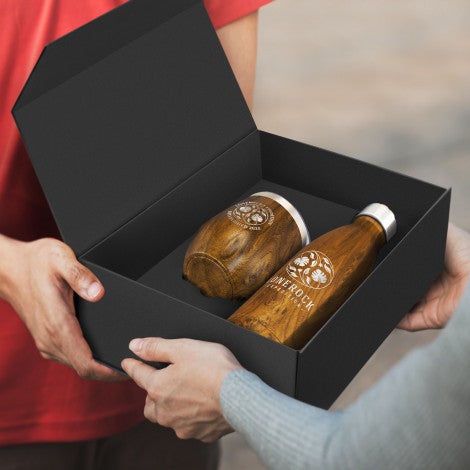 For gifting for every season (Dunedin in one day) why not look at box sets? Thermal bottles and cups are a great way to get your brand out there rain or shine or *coff - snow*.
Everyone loves to get a little appreciation especially when it's something as stunning as this boxed set with wood grain finish. I'd be pretty happy to receive this set....so long as you got it from EmbroidMe Dunedin though ;) FYI it's my birthday at the end of winter so you've got time.
Free Beanies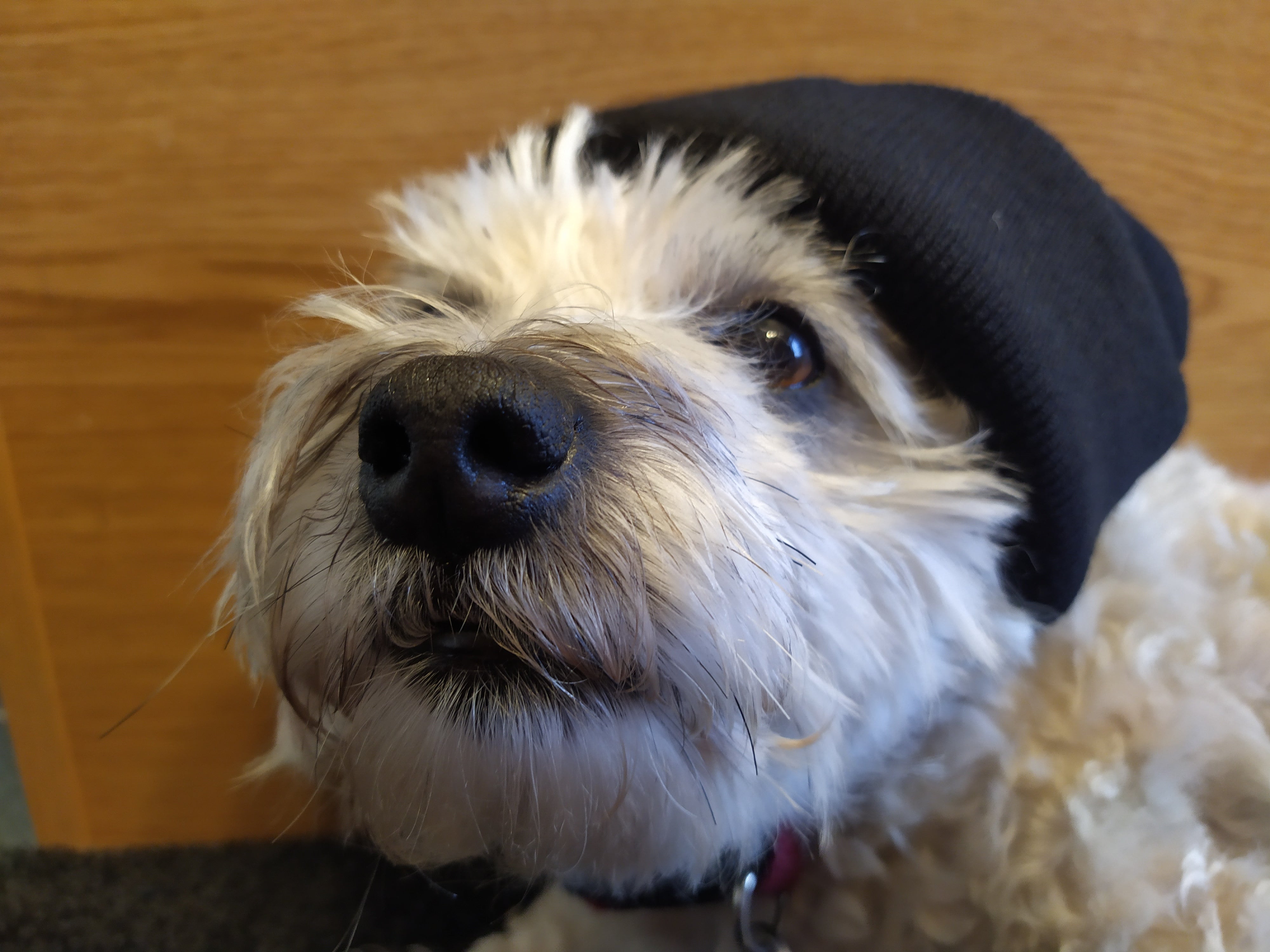 It turns out the dog is not a big fan of beanies but this winter staple is well represented in our house and particularly useful at all those outdoor activities the kids are heavily involved in.
And so it's that time of year again to put up our FREE beanie with every jacket purchased and branded at EmbroidMe Dunedin for the months of May and June (2021).

Dusty might pass but at least he's a better doorbell than high fashion model, right?
Winter Special - Free Setup on the Nova Cup!

Manufactured from borosilicate glass, with a secure push on silicone lid and a wide heat-resistant silicone band, the Nova Cup (Borosilicate) is an eco-friendly alternative to single use paper cups. Available in two sizes.

If you order 100 units or more before 30th September, you'll receive free setup!

Give us a call on 03 477 7057 to place your order!
It's starting to feel a lot like winter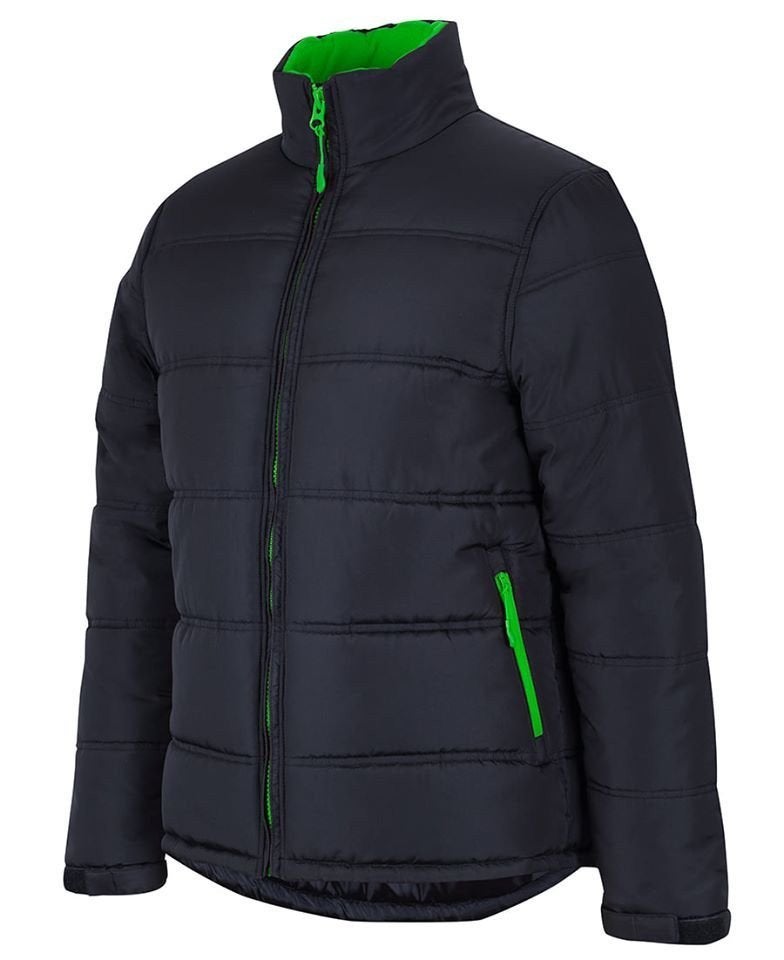 It's starting to feel a lot like winter now and we have a great selection of puffer jackets and vests to keep warm with. Plenty of opportunities to add a pop of colour with contrasting linings, zips and zip pullers. Have a look at how you can up the WOW factor with your puffers with EmbroidMe.